If you don't plan on living off the land for days on end deep in the wilderness, you will likely have to haul multiple food supplies to your campsite.
Inevitably, parts of it will need cold storage, which necessitates finding a cooler equally capable of maintaining a cool temperature and serving other functional requirements.
However, with so many varieties available today, you might have trouble deciding which one is best suited for your camping needs.
Since a wrong choice can always lead to unwanted hassles, it'll be a great help if you know the different types of camping food coolers and decide accordingly.
Let's discuss seven options in detail so that you know when to consider them.
7 Types of Popular Camping Food Coolers
#1. Hard-Shell Coolers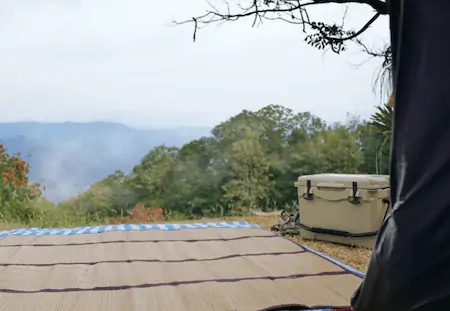 A hard-shell cooler usually has a hardened plastic, polypropylene, or fiberglass build, which gives it superior durability and strength. The latches and hinges are mostly reinforced rubber-made, so they are tough and enduring.
Coolers like these can withstand a lot of abuse, making them the ideal pick for heavy campers. It also explains why they are the most expensive of all cooler types.
Among hard-shell coolers, rotomolded or rotationally-molded coolers are most popular because of their extreme sturdiness.
Because these coolers are constructed from a single piece of plastic instead of several attached parts, they offer the best leak and water resistance.
The one-piece construction also means fewer stress points, so they are less prone to cracking or breaking. They also come with more heavy-duty latches and hinges than other types to protect against animal attacks.
So, if you're planning to camp in a bear country, a hard-shell rotomolded cooler is your best bet.
#2. Soft-Sided Coolers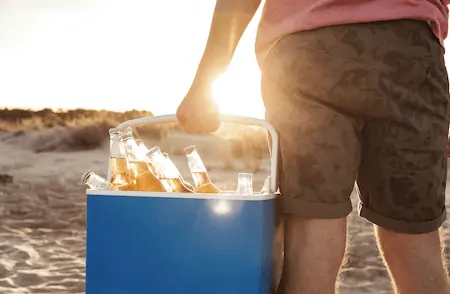 Fabric or vinyl-made soft-sided coolers are little more than a rigid box with easy fold and insulation, making them convenient to store when not in use.
These portable, lightweight coolers make the perfect options for a short picnic by the beachside woods. Many soft-sided coolers feature wheels, pad-gripped telescoping handles, bungee cords on the exterior, and mesh pockets for accessories.
There are even lighter soft-sided cooler bags resembling handbags or totes. Wine lovers may prefer those with wine glasses, bottle holders, cheese boards, and blankets.
Most soft coolers' are clean-friendly, with their exteriors utilizing durable, long-lasting materials such as nylon, heavy-duty vinyl, cotton-twill, or canvas.
Some also include a removable liner, leak-resistant zipper, or a stain-resistant surface to make the clean-ups further convenient.
#3. Metal Coolers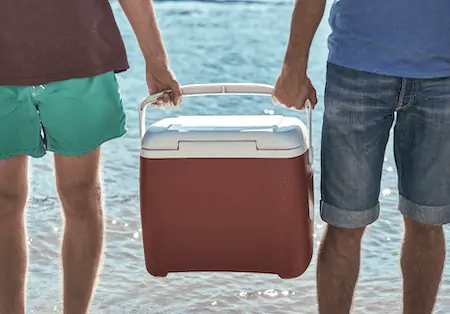 Metal coolers have a unique look with a classic vibe. They are made of either stainless steel or aluminum with several types of powder coats. It could be worthwhile to buy one of these high-endurance coolers if you are a rough user.
Coolers like this can handle a considerable level of wear and tear while offering a decent degree of insulation, too, sometimes even better than hard-plastic models.
They keep your items cool with foam film between the exterior metal and the plastic lining inside. The metal body has both advantages and disadvantages.
While it can add to the cooling in a cold environment, it can also reduce the ice retention time considerably in hot surroundings because of superior conductivity.
Most metal coolers also come with high-end locking mechanisms to safeguard your foods from theft and animal assaults.
Unfortunately, this also makes them much heavier and expensive.
#4. Backpack Food Coolers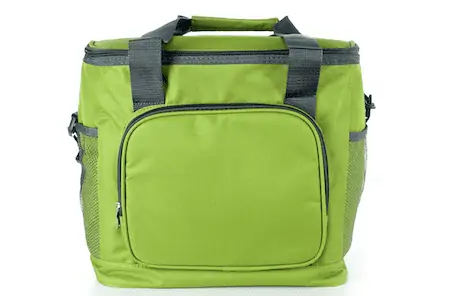 Insulated cooler bags or backpack coolers are excellent budget-friendly options when you don't need that much storage.
Several of these bags are waterproof, with leak-proof zippers, while others feature dry bags that prevent melted ice from dripping down your back.
Most backpack coolers come with padded shoulder straps that disperse the weight of the loaded items. Also, some expensive models today feature a filtering liner to prevent bacteria growth.
Many of these coolers have drain plugs built-in, but others require you to empty them before draining. You may also come across a few models with a dry compartment to keep paper plates, cutting boards, cups, and other picnic necessities.
#5. Nylon Coolers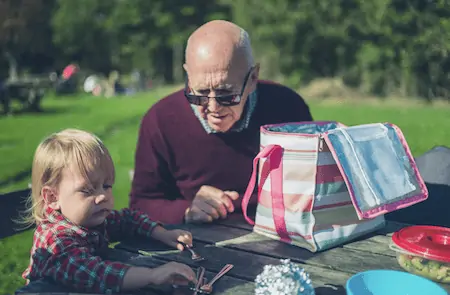 With nylon cooler bags, you can expect long-term use and heavy wear. They may not be as popular as hard-shell coolers, but they can handle rough usage. When you need to drink cold drinks on the road, nylon is a reliable material to have on hand.
Nylon food coolers have the advantage of being portable and lightweight despite their toughness. In addition, they have nylon handles that provide sufficient support for the easy transport of heavy loads.
However, most coolers of this type lack waterproof features, such as waterproof zippers, which is a downside. So you'll always need to keep it upright to prevent leaks.
Likewise, a nylon cooler likely won't provide much insulation and will probably not keep your foods or drinks cold for long.
In addition to being smaller, these coolers tend to be less spacious, so you'll have to plan ahead what you'll carry inside.
#6. Canvas Coolers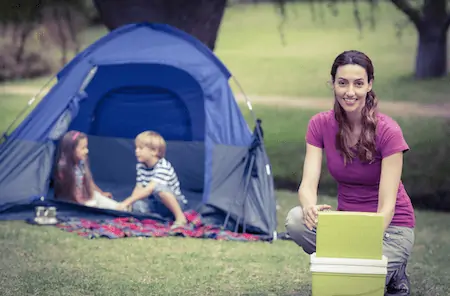 Canvas coolers are usually simple in design and compact in size, with short handles similar to those in duffel bags or shoulder straps. You may find them ideal for a quick lunch for two or keeping small items cold.
However, you must remember that their thick interior foam's moderate insulation will only keep things cold for a short while, but not all day.
The coolers have an opening that is typically more expansive than the bag itself, making them easier to fill and locate items in.
In most cases, they have a zippered compartment on the outside, where you can store dry items. You can fold or press the bags flat to store them when they are not in use.
Canvas coolers are relatively durable and moisture-proof, if not entirely waterproof. Some come with waterproof zippers, while others come with a laminated exterior for additional protection against wet spots outside when the contents start melting.
#7. Thermo-Electric Camping Coolers
You may want to consider getting a travel cooler that will work with your electronic devices before you go on a trip, and a thermo-electric cooler can just be the perfect option for that.
The best part about thermoelectric camping coolers is that they don't require ice. Instead, they maintain the temperature for your items using the Peltier effect as you charge them through your vehicle's 12-volt port.
While no ice means you have more space to keep inside, it also means there will be slushy water in the bottom, so your items will not get entirely drenched.
However, a notable drawback of this cooling system is that it can only cool to a certain extent depending on the outside temperature.
Many of these travel-friendly coolers let you enjoy a plugged-in camping experience by allowing for music streams from Bluetooth devices and charging media devices while keeping your items cold.
A few even have USB and SD digital players with mini subwoofers alongside aux-jack and microphone inputs.
Final Thoughts
So, that's that. Now that you know seven different types of camping food coolers and what they are ideal for, you can easily pick one that meets your specific needs.
Besides the type, you should also pay attention to the size while choosing a cooler. With the suitable capacity, you can fit anything from a light snack to a whole buffet.
Additionally, you can look for wheeled models if there is a lot to carry and your camping involves a great deal of uphill hiking.