If you are active in camping adventures or frequent outdoor activities then you probably understand the need to have a reliable cooler. Coolers play a very important role in storing drinks and food for long hours.
So, have you used a Yeti cooler before? Oh, wait, you are planning to purchase one as expensive as they come. Have you ever wondered why are Yeti coolers so expensive?
Well, maybe it has ever occurred to you that their good quality justifies their expensiveness, which is right. Read on for more convincing reasons that explain why yeti coolers are costly.
Durability You Can Count On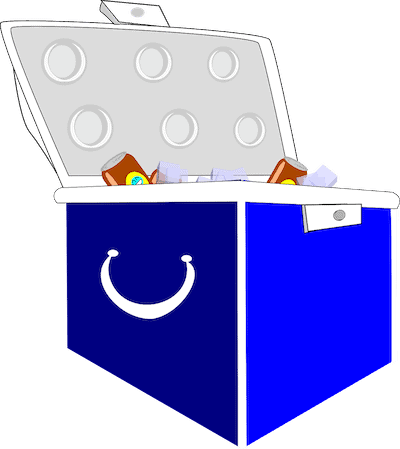 Yeti coolers, Tundra to be more specific, are without a doubt made from a long-lasting material (rotomolded plastic). The cooler is specifically made to withstand all sorts of external forces or impact that could result in damage.
A Yeti cooler can be knocked down and not spill its content. It is a bear-proof cooler, so, you can imagine how durable it is.
Despite its quality construction and finish, Yeti coolers are light and therefore easy to carry around. If you place a Yeti cooler alongside other brands like Engel and Pelican, it will definitely stand out.
This shows that its construction is incomparable and observable, which explains why it is expensive.
Leakages, damaged hinges, and cracks are some of the most common signs that indicate a cooler should be replaced.
However, this is not the case with Yeti coolers because they can last long even in the roughest of conditions.
Not even using them frequently can wear them out that fast. If you have been wondering why your previous coolers couldn't last longer, now you know that it has to do with durability and Yeti coolers can fill that gap.
Desirable Brand
There is more to a brand than just selling products, and Yeti understands that very well. In addition to making quality coolers, Yeti is a company that is very committed when it comes to creating ads that not only resonate with potential buyers but appeal to them in a way that persuades them to purchase their coolers.
If you check out their ads, on YouTube or their website, or anywhere for that matter, you will agree that their videos are beyond convincing. The ads plant or leave a desire to want to experience what is reflected in them.
At that moment, not even the price tag for their range of coolers can cloud your desire to own one of them. Branding for that reason sets Yeti at par with its competitors, whose products almost function just like Yeti's and surprisingly, come at lower prices.
Different Storage Capacities
When it comes to ice storage capacity, Yeti coolers come in different ice holding capacities. This provides you with several options to choose from depending on what you intend to use your cooler for.
Packing for an adventure is not a problem, whether as an individual or as a group because you can easily do that as long as you purchase the right size. Available sizes for Yeti Tundra coolers can accommodate a range a pounds of ice, from 20, 28, 35, 56, 66,…..all the way to 329 for Tundra 350.
First of Its Kind
When Yeti was officially introduced in the market, it instantly made a mark that has since never been erased. The coolers came out at a time when there were only cheap and substandard coolers in the market.
It achieved the acclaimed attention from its design and generally how reliable and amazing it proved to be. By the time other competitor brands made their way into the market, Yeti had already made a name for themselves and until now, despite their expensiveness, remain to be a hot cake.
It is also worth mentioning that since their entry into the market, the company has achieved notable growth and diversity in the manufacturing of their products and that is has helped them remain relevant.
Exceptional Features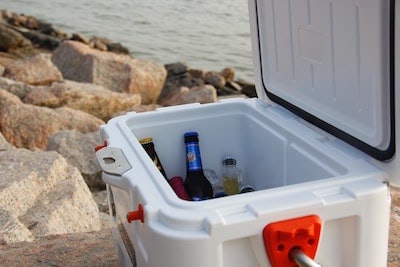 You too would expect a cooler with unique and additional features like Yeti to cost more. It is as simple as that, especially when the said features improve and simplify its functionality. So what is so unique in Yeti coolers?
Well, first things first, the coolers are designed with tie-down slots which makes it easier to fix them on boats, trucks, etc.
This feature leaves you with no worries of not having your cooler in place as you moved or drive from one place to another.
Another feature is that of a slippery-proof bottom that prevents the cooler from sliding off surfaces when they are not tied down.
Besides that, their drainage system is designed to facilitate easy water drainage which prevents your ice from fast-melting when the water is heated.
Impressive Ice Retention Periods
We all want a cooler that will not require us to buy refill ice now and then. A cooler that holds ice for longer periods and still keeps the contents of the cooler fresh and still. Yeti has proved to be that kind of a cooler. Yeti Tundra coolers are capable of retaining ice for up to 5days.
You can count on a Yeti Tundra to preserve your content for a week-long trip with the same ice. However, you should also bear in mind that the longevity of ice retention depends on how you handle the whole situation.
Yeti company, for instance, advises Yeti cooler users to not drain the cold water, not leave any empty space in the cooler as air tends to accelerate ice-melting, ensure the ratio of ice to the cooler contents is higher, avoid direct sunlight among other several suggestions. If you adhere to such simple directions, you are not going to have any issues with ice replacements.
Yeti cannot be compared to other brands in terms of ice retention, as it does more. It is for such a reason you are going to pay more for it.
Security
Of course, everyone wants a cooler that they can have around without worrying about its safety. For a cooler that costs more like Yeti, it would not make sense at all if there wasn't a way to safeguard them or their contents.
As for securing the contents in the cooler, there are locking options to choose from which prevent wildlife or intruders from gaining access into your cooler. You may not believe it but there are people who will not hesitate to break in a cooler or make away with it should they come across one.
Some locks are for that reason made to lock your cooler on the truck or camping site so that passing persons cannot be tempted to sneak it away as it would make them some quick and good cash if they choose to sell it.
If you can afford a high-end cooler like Yeti, you might as well invest in locking cables to ensure that you are able to secure your cooler well.
Vacuum Insulation
You probably have been using a coffee mug with double insulation but it never occurred to you that a cooler could be designed in a similar manner too.
Well, Yeti is very much dedicated to going out of their way and pull the impossible and that is how they ended up designing vacuum insulated coolers (YETI V Series). You can only expect excellent performance in terms of thermal insulation from such a cooler.
This also means more storage duration for your drinks, food, game meat, and fish, etc. You also get to save money from occasional ice buying.  In case you didn't know it, manufacturing vacuum insulated or double-walled products is costly.
With that revelation, you can imagine how costly it would be to design a cooler and large one at that. That straight-up explains why yeti coolers cost more.
Warranty
A series of Yeti coolers namely; YETI TANK, YETI Tundra, YETI V SERIES, YETI Roadie, YETI Silo, YETI Hondo, YETI Boomer, and several others come with a 5-year warranty. They have other products whose warranty is a three year period and some of them include YETI Panga, YETI Tocayo, YETI Crossroads, etc.
As per the company, these warranties are only valid for products with damages resulting from the manufacturing process. This means that any other damage that is self-motivated cannot be covered. Most cooler brands do not offer warranties and even the ones that do cannot match that of Yeti.
It is therefore right or fair to say that for a company whose products come with such a warranty period, it is understandable if they cost more. It is liberating to know that you can get parts of the cooler or the whole cooler replaced, within a 5-year period if they develop defects and that can only be the case with Yeti coolers.
Bottom Line
So, do Yeti coolers deserve the price tags they bear? That was probably the question you had in mind before you started reading this piece. Up to this point, you can see that they deserve every penny on those price tags.
However, you can only completely prove this by choosing to experience them on a personal level. That is if you are an outdoor adventure enthusiast and such a cooler could come in handy.