Whether you are on a trip with frozen snacks, groceries, or your favorite drinks, you will need some cooling while you are on the road, and a portable cooler is perfect for this purpose.
But what if you are camping in a bear country, and suddenly one of those large, furry friends bursts in and destroys everything you have brought with you? That's when you should turn to a bear-proof cooler.
Grizzly and Yeti are two renowned brands that claim to make bearproof coolers. But it's okay to wonder if they are actually capable of keeping a bear out, considering how gigantic and sneaky bears are.
Let's compare the two in this Grizzly vs. Yeti coolers comparison and see which one is truly bear-proof.
Overview of Specifications
| | | |
| --- | --- | --- |
| | Grizzly | Yeti |
| IGBC Certifications | Certified | Certified |
| Shell Construction | Rotomolded Polyurethane | Rotomolded Polyurethane with ABS lining |
| Edges and Contours | More | Less |
| Latch System | Bear Claw | T-Rex |
| Additional Locking Mechanism | Available | Available |
| Ice Retention | 3-7 days | 3-7 days |
| Size/Capacity Options | 4 | 8 |
| Weight | Less | More |
| Price Range ($) | 120-800 | 190-1300 |
What Makes These Coolers Bear Proof?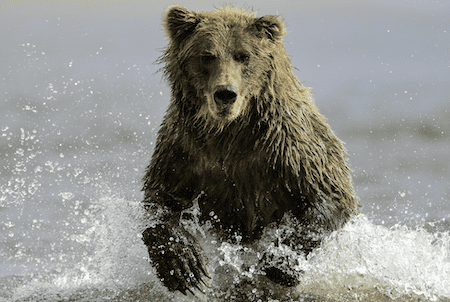 Determining whether a cooler is bear-proof or not comes down to the following features. Let's see what Grizzly and Yeti have to offer here.
#1. IGBC Certification
Many companies claim their coolers are bear-proof, but unless they are IGBC certified, it's useless to trust such claims.
IGBC (Interagency Grizzly Bear Committee) works to ensure the survival and habitat of grizzly bears. As part of their efforts to preserve bear welfare, they urge hikers and hunters to bring foods that bears won't find appealing and to use bear-resistant containers.
The IGBC has the approval from the US Forest Service to certify coolers and containers as bear-resistant, based on their quality. To their credit, both Grizzly and Yeti coolers come with the IGBC seal based on the tests of their ability to withstand a hungry Grizzly bear.
While you can trust both products because of this certification, be sure to compare the following crucial features between them to ensure you are getting the best deal.
#2. Construction and Design
Grizzly coolers feature a rigid rotomolded shell, meaning the outer material distributes evenly, with no gaps to cause cracks on your cooler. Compared to the typical run-of-the-mill options, these pressure-injected polyurethane coolers are much more durable.
Yeti coolers boast a similar rotomolded polyurethane shell, but they promise far better resilience, thanks to the added ABS lining. The hardened lid should be almost impossible for any bear to pry open.
And having fewer edges and contours than the Grizzly means the furry, giant creatures will also have a tough time holding and scratching the sideways.
The design also makes your cleaning more efficient, whereas its non-slip rubber feet keep your cooler steady in one place for good measure.
Another significant advantage with the Yeti coolers is that they don't have protruding handles like the Grizzlies. Not only does the flat-lying handles make the holding and carrying more convenient, but it lets you save some space when packing your cooler into tight spaces.
#3. Latch System
Regarding the latching system of Grizzly vs. Yeti, these two brands differ a lot. Grizzly's bear claw latches won't hold a candle to the Yeti's T-Rex ball latching system.
Grizzly's bear-claw latch system consists of rectangular rubber pieces tied to the cooler's base by molded plastic pegs. The screwed-in latch only covers the side it's attached to, leaving possibilities for bears to break into the cooler from the other side.
On the other hand, Yeti coolers' T-Rex ball latch system is renowned as the industry's most durable and reliable latch system. It's fastened with rivets running through the cooler's entire frame and secured on both sides, leaving bears with little chance to rampage.
Additionally, the installation of the cooler is tight enough to prevent the lid from falling off when you raise it. It cannot close on its own due to this ergonomic feature.
#4. Locking Mechanism
Bear-proof coolers often require additional locks in conjunction with the ones already on the cooler, the fact that most manufacturers don't advertise.
Yet, both the Grizzly and Yeti coolers share similar locking mechanisms featuring holes that run from the lid to the bottom.
And it's a good thing that these brands seriously considered a bear's weight and jaw strength and kept the option to lock it up for ensuring added security.
The system is compatible with both adjustable locking cables and padlocks, and depending on the goods you are taking in the coolers, it may be best to make the most of it.
Comparing a Few Other Essentials
Besides being bear-proof, your cooler can be the most effective camping companion if it can serve up a few more qualities.
Let's see how Yeti and Grizzly compare regarding the following essential features.
#1. Insulation
As far as insulation is concerned, Grizzly and Yeti are miles ahead of most other brands out there. They both use four inches of insulation, allowing your ice to stay frozen for up to three days in hot weather and up to a week in cold environments.
It's a massive plus for either of the coolers, considering most mid to high-end coolers use around 2.5-3 inches, which translates to only one day of ice in hot weather and up to five days in cold.
The Grizzly's interior is made up of a thick rubber gasket, a thicker foam, and a highly insulated rigid lid for exceptional insulation and a long retention time. In contrast, Yeti uses its patented foam to produce similarly high insulation levels.
#2. Size Variations and Capacity
In the same vein of confusion, the Yeti and Grizzly cooler varieties barely align with their model names.
For instance, a Grizzly 40 cooler has a capacity of 40 quarts in contrast to the Yeti Tundra 45's 37 quarts. Yeti also offers more size options (8, compared to Grizzly's 4) with the 35 and 45 quarts available in the medium category.
Nevertheless, Grizzly's coolers are more accurate in their labeling than Yeti's, and they provide capacities that closely match what they claim.
#3. Weight
The confusing size variation and capacities make it pretty challenging to compare the two coolers' actual weight.
Still, taking the Grizzly 40 (40 quarts, 22 lbs) and Yeti Tundra 45 (37 quarts, 23 lbs) into consideration, which are the closest match, the Yeti should seem a bit heavier than Grizzly.
#4. Price
If you have done some research already, you are probably aware of the Grizzly and Yeti's price ranges. The Grizzlies typically cost between 120 and 800 bucks. In contrast, with its base model ranging from 190 to 1300 dollars, Yeti is on the more expensive end.
Final Verdict
Our Grizzly vs. Yeti coolers comparison clearly shows that Yeti outperforms its counterpart in critical areas when you are looking for a genuine quality cooler.
Yet, no one can outright dismiss Grizzly, the brand favorite among campers, hikers, hunters, anglers, and other outdoor enthusiasts. With quality materials and high-end manufacturing in America, it offers first-rate coolers at an affordable price.
The Yeti ultimately makes a better choice as the buy-it-for-life cooler, even with the hefty price tags. However, it's still essential to research and weigh your demands before deciding if a Yeti cooler is worth the extra cost.