For anyone enthusiastic about guns, knowledge about scopes is a must. These devices go hand in hand with rifles when it comes to enhancing the shooter's accuracy.
With advances in modern optics, scopes these days come in all sorts of shapes and sizes. This not only makes it hard to choose but also difficult to categorize them.
And without prior knowledge, you will most likely find yourself scratching your head while looking at the wrong choice for hours.
So today, we will be looking at an in-depth review of the best rifle scopes in the market.
By the end of this, we hope you will have gained some valuable information and the confidence to choose one that's right for you.
14 Best Rifle Scopes (Quick Overview)
Rifle Scopes By Budget
Expensive products are always not the best choice. For budget shoppers, we have separated the best optics according to the price range.
Have a look.
14 Top-Rated Rifle Scopes of 2021
We have put in considerable hours into our research to bring you 14 of the top rifle scopes in the market.
So, without further ado, let's get right to it!
#1. Vortex Optics Viper PST Gen II First Focal Plane
To kickstart our list, we have this versatile scope from Vortex Optics. The Viper PST Gen II has been upgraded from its predecessors to offer cleaner shots with tons of added features. This is a steal for any shooter that aims to switch from hunting to tactical shooting situations.
For starters, the Viper Gen II has a hard Anodized finish, which helps camouflage the shooter. The matte texture prevents any light rays from reflecting off the surface of the scope. This, in turn, keeps the shooter's position discrete.
Also, made of high-quality Aluminum, the body of the scope is able to withstand any sort of recoil or impact.
What's more, the dials integrated onto the scope have been built out of premium components. The erector spring system allows you to smoothly adjust your scope time and time again without fail.
Meanwhile, the use of high-quality components ensures easy adjustment of your magnification settings in the toughest of situations too.
In addition, the Viper packs other useful features like a radius bar and an illuminated reticle. When shooting in low-light conditions, the illuminated reticle protected between two layers of glass gives you a clear view of your target.
The radius bar acts as a point of reference when adjusting the windage and elevation, making it much faster for you.
#2. Burris Xtreme Tactical XTR II
Burris Xtreme Tactical XTR II offers the best assistance when it comes to keeping your shots on target. With easy adjustment knobs and exceptional resolution, be ready to witness some of the best quality views from within the scope.
Versatility takes on a new name with this tactical scope. With a minimum magnification power of 5X, close-range shooting is a breeze with this scope.
Also, when you're aiming at targets over a longer distance, the magnification can be increased to 25X. As a result, you won't have to invest in multiple scopes for varying magnification powers.
Burris has integrated a high-quality optical glass that produces bright and clear images. Each of the components within the scope has been hand-fitted with care. This ensures that each scope maintains a certain standard when it comes to precision.
The coatings of the lens enhance durability by making it resistant to scratching and smudging.
In addition, the longevity of the scope is further boosted with the nitrogen-filled body tubes. This prevents internal fogging in extremely cold temperatures.
The sealed body construction also makes the scope body waterproof. And so, you don't have to worry about looking at the weather forecast before hunting.
The zero-click stop adjustment knobs are the ideal companion as they reset the yardage setting easily. This allows you to control the windage and elevation as per your needs without much hassle.
The knobs are also built of high-quality materials, giving you tactile feedback as you adjust the turrets.
#3. Leupold VX-5HD 3-15x44mm Side Focus
For the shooters that prioritize versatility over everything, the VX-5HD from Leupold is a perfect companion. Featuring an adjustable magnification power of 3X to 15X, this scope will come in handy for all kinds of shooting purposes.
Paired with the low eye relief settings, this will give you a comfortable shooting experience.
Assembled in the USA, each VX-5HD has gone through rigorous testing processes before handing it over to you.
The tough construction has been designed to survive 5000 impacts on Leupold's strongest recoil machine.
And rightfully so, Leupold uses nothing but the toughest Aluminum in all of their scopes. So if you're going to invest in this, just know that it will last you for ages.
Moreover, the in-house lens design from Leupold is well-reputed for its clear resolution images.
The Twilight Max HD light management system is tweaked to give you the best view of your target, even in the harshest of lighting conditions. As a result, this is perfect for shooting in both low or bright light environments.
Other than just focusing on features, the durability aspects of the scope have been put into close consideration. The construction of the scope body has been designed to be shockproof in order to withstand the recoil of any kind of rifle.
Also, the lens is both water and fog-proof, so you won't have to worry about the environment taking a toll on its longevity.
#4. Vortex Optics Crossfire II
The Vortex Crossfire II is a great choice if you're limited on a budget but want the best lineup of features. With a sturdy build quality and adjustable magnification, this scope will do well within its price range to give you a satisfying shooting experience.
Starting off, the dead-hold BDC MOA reticle is a great choice for any shooter. The dot has been specifically designed to reduce the need to calculate on holdover.
When you find yourself in intense shooting situations, this dot will be your sidekick in the quest for accuracy.
The second focal plane reticles don't change when you increase magnification, which acts as an advantage.
Moving on, the scope features a 32-millimeter objective lens with adjustable magnification settings from 2 to 7X. When paired with the Dead-hold BDC reticle, these magnification settings will further enhance your accuracy.
Also, the adjustable magnification makes this scope perfect for both long and short-range shooting purposes.
What's more, the Crossfire II comes with a long eye relief, which needs to be stressed on.
Not only that, but Vortex has also integrated an ultra-forgiving eye box that focuses mainly on your comfort. The long eye relief is great for quick scoping on a target as it offers quick reticle focusing.
Looking closer into the lens, we noticed an anti-reflective coating on the surface. This is ideal for shooting during the day as it blocks out harsh sunlight rays.
Additionally, the lens has been multi-coated to protect itself from any sort of abrasion. This ensures that you get clean and clear shots on your target for years to come.
#5. NightForce SHV 5-20x56mm
Now while there are some big-name brands providing the best quality scopes, there's no harm in trying out other competitors.
Brands like NightForce are known for providing quality scopes at decent price ranges. The SHV 5 is just an example of how good their scopes can get.
First off, the construction is just as good as any other high-end scope in the market. Using only the best grade Aluminum, the scope is built to last you for the long haul.
Not only is it very lightweight, but it will also withstand the recoil of your rifles without damaging the interior components.
Packed within the scope body is a 56-millimeter multi-coated lens that offers a wide field of view. The large objective lens is a great addition as it maximizes the amount of light that enters the scope. This enhances the clarity of the image to give you accurate shots.
Since hunting requires you to survive harsh weather conditions, just know that the lens will do the same. The coatings help prevent any sort of scratches or smudges obscuring your view.
Furthermore, the adjustable magnification settings offer a wide range of zooming options. From as low as 5X to a high of 20X makes this scope perfect for medium and ultra-long-range shooting.
So if you're going to hunt small game over large distances, you know which scope to choose. As the reticle is in the second focal plane, it remains the same with any zoom settings.
#6. Steiner T5Xi Tactical Scope
The T5Xi scope from Steiner is built to give you unrivaled clarity and accuracy. With the precision of German engineering, the scope gives an edge to the shooter in both long and short-range situations.
Starting off, the T5Xi series scopes are all built to last you for ages. Featuring an absolute waterproof and fog proof design, this scope allows you to go hunting on any day of the year.
With 14-psi pressurized Nitrogen sealed into the optics, you receive optimum clarity at the harshest of weather conditions.
Steiner has put a lot of thought into their illuminated SCR reticle. SCR or special competition reticle has been designed to aid competitive shooting purposes.
As it is placed on the first focal plane, it will adjust itself according to your magnification settings for precise shooting.
Also, it features an extended illumination area that makes it easy to aim at your target.
What's more, the 34-millimeter long scope tube acts as an enhancement to your shooting as well as durability.
As it is a one-piece tube design, the strength and reliability of the scope are maximized. When you're adjusting elevation and windage, the long tube offers a wider range of adjustments.
The lens has been engineered to display images at the highest possible resolution. With its 56-millimeter objective lens, Steiner is able to maximize light transmission into the scope.
This not only gives you clear pictures during the day but also during low-light conditions.
#7. OpticGuru ATN X-Sight-4k Pro Smart Day/Night Scope
Ever wonder how convenient it would be if you could record your shots and look back at them later to find mistakes?
Well, now you can! With the ATN X-Sight from OpticGuru, all your shots can be recorded at ultra HD resolution.
When it comes to shooting assistance, the ATN X-sight does an exceptional job by displaying various information on the screen.
Integrated within the lens is a ballistic calculator that will adjust the point of impact automatically.
So, you can switch your ammo, move to a different environment or even change your distance from the target, the ballistic calculator will adjust itself on its own.
Packed within the tube of the scope is an Obsidian IV Dual Core processor that is needed to power the video recorder.
The Ultra HD sensor and processor work hand in hand to give you rich images during the day. During the night, the color palette changes to black and white to offer a minimal night vision capability.
In addition, the body of the scope has easy one-handed button configurations. This enables you to adjust your video recording settings while being positioned behind the scope.
The device allows you to stream your recordings over Wifi or save them for later, in case you want to go back and assess your mistakes.
Now it goes without saying that a high processing scope as such would need a powerful battery backup. OpticGuru has you backed up on that as it features a battery that can provide you with 18 hours of use.
When you're running low on battery life, switch to the Ultra-low power consumption mode to minimize battery usage.
#8. Primary Arms SLX 3-18x50mm FFP
Over the years, Primary Arms has made a name for itself by providing high-quality scopes at reasonable price tags.
The SLx line of scopes is one of their well-reputed products. Not only do they provide superior performance, but they tend to last you for long years.
Looking into the specifications, the scope provides you with a minimum magnification of 3X with a max of 18X.
This enhances the versatility of the scope as it can perform well over short or long distances. The 50-millimeter objective lens maximizes the light transmission to give you the clearest view of the target.
What's more, the lens is equipped with an ACSS Apollo 6.5-centimeter reticle. This allows you to shoot anywhere between 100 to 1000 yards without having to account for windage and elevation. The process tends to save you a bunch of time in intense hunting situations.
Furthermore, the illuminated reticle is located on the first focal plane, which means it changes in size according to magnification.
As a result, you are able to shoot at long distances easier. Also, Primary Arms has programmed six different brightness settings to better accommodate your surroundings.
Tactile feedback is always a good feature to have when it comes to knobs and dials.
The turrets on this scope come with clicking feedback to give you an idea of how much to adjust without looking straight at the dial. This can be useful when in situations where you're adjusting the knobs while being behind the scope.
#9. Sig Sauer SIERRA3BDX 3.5-10x42mm
This next scope from SIG SAUER takes on a whole new meaning when it comes to durability and reliability.
With its easy to use features and specifications, this is perfect for any shooter looking to get the best out of their scopes.
The optics integrated into the Sierra3 BDX is truly exceptional as it features a wide range of innovations. Its lens comes with advanced optical systems that provide both high definition and transmittance.
This, in turn, gives you rich and crisp images for a clean shot at the target. The multi-coated layers ensure no smudges or scratches deteriorate the HD quality of the lens and keeps it well protected.
Furthermore, the lens is covered with an anti-reflective coating that reduces obstruction caused by harsh rays of light. This can be extremely useful when hunting during the day as the sun's rays can obscure the image displayed through the scope.
The SpectraCoat also enhances the light transmission into your lens, which improves the resolution of the image.
Moreover, the BDX series comes with a Levelplex digital anti-cant system that ensures you get the most accurate shots.
Unwanted cant can cause your accuracy to dip by 0.5 to 1 degrees, which are enough to make you miss your shot.
The cant indicators located inside the scope are 6 times more accurate than other scopes in the market.
#10. Crimson Trace Optics Sport
The sport scope from Crimson Trace is an excellent addition to any shooter's rifle configuration. Offering a wide range of magnification levels and durable build quality, you are bound to receive enhanced accuracy in your shots.
Getting into the specifications, the scope comes with adjustable magnification levels of 6X to 24X. This comes in quite handy when shooting in medium to long-range targets.
The 24X magnification is quite high and will come in handy when hunting for the small game over long distances.
Paired with a 56-millimeter objective lens, the scope maximizes on its light transmission to give you crips images.
The entire line of Crimson Trace scopes come with EZ mount leveling indicators, allowing you to accurately place your scope on the rail.
This is quite important as errors in mounting can cause your scope to take most of the recoil damage. Errors will cause the interior components of your scope to deteriorate at a faster rate.
With its glass etched advanced illuminated reticle, you will receive precise aiming. The reticle sitting on the first focal plane adjusts itself according to your magnification settings.
This further aids your comfort when aiming at targets of different sizes over a range of distances.
Made of aircraft-grade Aluminum, this scope has been built to survive anything nature throws at it. Its sturdy construction is not only durable but boosts the overall strength of the scope tube.
The single-piece 34-millimeter tube design is able to handle even the harshest of recoils.
#11. UTG 3-9X32 1″ BugBuster
With an emphasis on a rugged design, the Bug Buster is UTG's most revered scopes. The tightly sealed body is entirely weather-resistant to fog or rain, so don't let the weather choose your mood to hunt.
The body construction is also made of the most premium materials to give you long-lasting service.
To begin with, the construction of the body features a True Strength platform, which enhances the reliability of the scope. Inside the body, a spherical structure controls the joints of the tubes.
This movement guarantees that you receive precise windage and elevation adjustments, resulting in accurate shots.
The reason UTG has gained wide-scale popularity is because of its consistency. Each of the products is put through rigorous testing before being sent over to you. This ensures that you receive a well-tested product built to last you many years.
Also, the knobs for adjustment have been carefully constructed to give you precise control of your windage and elevation.
UTG has an integrated locking and resetting feature to prevent your adjustments from resetting at every shot. The resetting control allows you to achieve a true zero setting.
In addition, the scope gives you the added benefit of being able to change reticle colors. The knobs located on the side enable the switching of reticle colors from red, green, and black.
This makes the scope versatile as you can alter the reticle color to suit your environment better.
#12. Monstrum G3 6-24×50 First Focal Plane FFP
Up next on the list, we have a scope that is truly underrated in the market. The Monstrum G3 is a highly versatile scope that is perfect for both short and long-range shooting.
Featuring magnification levels from 6X through 24X, this will cover large distances while keeping your aim steady.
To begin with, the high-quality Aluminum build allows the scope to maintain a lightweight structure without compromising on the strength.
The bonds within the Aluminum alloy are strong enough to resist shocks from any rifle recoil, keeping the interior safe.
With its first focal plane MOA reticle, you are able to get the most accurate shots. When looking through the scope, you will notice marks on the lens that allows for quick and easy range estimation.
This comes in handy when you need to quick scope on a target before it flees. For outdoor hunters, this range estimation feature can seem quite time-consuming. Having these markers helps you instantly adjust your aim accordingly.
Moving on, the objective lens is fully adjustable, aiding the accuracy of your aiming. Upon turning the lens dial, not only are you sharpening your focus but also eliminating any sort of parallax. This keeps your aim precisely on the target.
Moreover, the illuminated reticle can be adjusted for brightness. This gives you more flexibility when it comes to different surroundings. High brightness settings are more than adequate to assist you in aiming at low-light conditions.
#13. Athlon Optics Argos BTR
For those of you who keep switching between long-range and short-range shooting, this next scope is a blessing. The Argos BTR from Athlon Optics features an adjustable magnification setting of up to 24X!
That's not all; you can bump it down to as low as 6X, which is more than enough for close-range shooting.
Made of the 6061T6 aircraft grade Aluminum, the tube is unrivaled when it comes to strength and durability. Since all the interior components are quite delicate, the Aluminum construction is strong enough to protect their mechanical integrity.
What's more, the first focal plane reticle stays well lit at all power settings. This enables you to fully take advantage of the adjustable reticle.
As you increase the magnification power, the reticle changes in size to accompany your zoom. This allows for easier and more precise shooting.
Furthermore, this scope features an advanced, fully multi-coated lens that maximizes light transmission into the lens. As a result, you receive crisp and bright views through the scope. The coating also acts as protection against scratching or abrasion.
In addition, Athlon Optics has used Argon to purge the scope. This enhances its ability to resist thermal shocks from recoil.
Also, when Argon purged, the scope tends to be more waterproof.
This is crucial with any scope as the weather can be unpredictable, and you wouldn't want a little bit of rainwater to damage your investment.
#14. Nikon P-Tactical .223 3-9×40 Matte BDC600
Nothing maximizes a shooter's eye relief more than the P-tactical scopes from Nikon. Housed in a one-piece tube, the lens offers you consistent eye relief. This allows you to keep shooting comfortably for long hours.
Moving on, the P-tactical is constructed from aircraft-grade Aluminum, which is not only the most durable but also the lightest.
Lightweight scopes are important as they allow you to maneuver easily. The strong bond of Aluminum aids the shock resisting capabilities of the body, allowing it to withstand recoil.
If you're passionate about hunting, you cannot let the weather dictate your time. With the P-tactical, you can now go shooting at any weather condition without worry.
The O-ring sealed body prevents any sort of moisture from seeping into your scope, making it water and fog proof. It has also been purged with Nitrogen to resist thermal shocks.
In addition, this scope packs an exceptional lens, made to withstand even the toughest of conditions. The fully multi-coated objective lens has been layered with elements that enable it to resist scratches or smudges.
This gives you clear and bright views for as long as the scope lasts.
We cannot stress how important eye relief is. While this is a problem recognized by most scope manufacturers, only some take a conscious effort to make it tolerable.
Luckily, Nikon has taken this into account when designing the P-tactical. The consistent eye relief makes shooting for long hours much more bearable.
Features a Scope Must Have
Before buying what you might think is the right scope for you, there are some must-have features you should consider.
These essential features will guarantee the best performance and durability of the scope.
Lightweight Body Construction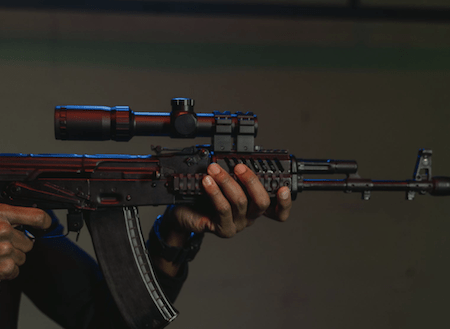 The first thing you should look into is the body construction of your scope. Many people underestimate the importance of this as they think the lens and reticles are what impact performance.
However, that is not the case as body construction affects durability and maneuverability.
To get the best out of your scope, try to specifically look for ones that have been constructed from Aluminum.
Now, if you invest in scopes from a well-reputed brand, the Aluminum used will be of the best quality (aircraft grade). Otherwise, they may also use lower grade Aluminum.
In any case, the lightweight composition of Aluminum reduces the overall weight of the gun. Upon attaching the scope, the reduced impact on the gun's weight allows you to aim easily.
Also, when you're moving around while aiming, a lighter scope will serve you better than ones that are heavy.
Aluminum construction has tons of other benefits like enhanced longevity and improved shock absorption.
These will allow your scope to last longer and withstand bumps, wear and tear better.
Multi-Coated Lens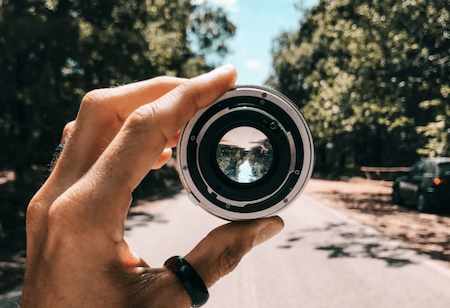 As mentioned already, most people think the lens is the only thing that affects the performance of the scope.
Such is not the case as the optics and lens work hand in hand to give you a clear shot at your target. Without proper tuning of the two, you might not be able to get the best view for your shots.
Now keeping in mind that scopes don't come cheap, you should consider one that lasts you for the long haul. This, in turn, means that all individual components have to be highly durable.
Using a multi-coated lens prevents you from scratching or smudging the delicate surface. This comes in handy when hunting in the woods as there are tons of dust particles around that can easily scratch the coating.
Not only does the multi-coating act as a layer of protection from abrasion, but it also keeps unnecessary glare at bay.
When hunting during the day, the rays of the sun might block off your view or make it hard to aim.
Some weathering conditions may cause your lens to become foggy too, so you want to look for one that is well protected from this.
Reticle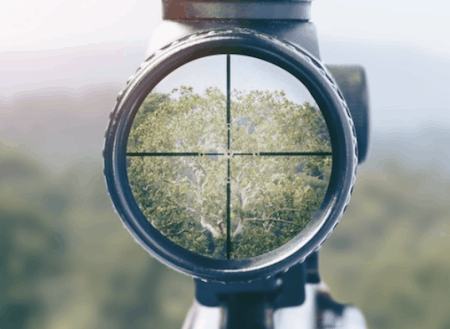 A scope will only be known to perform well if the shooter is satisfied with the reticle. This is the dot or crosshair that you see when you peep into the scope.
Generally, reticles can either come in green or red. This depends on the preference of the shooter, but each color has its own set of benefits.
For example, when you have shiny surroundings with too much light, the green reticle will stand out more and give you a better shot.
And so, having both the options is the ideal situation.
Some scopes come with adjustable reticle colors and sizes. This multi-functional feature enables you to go hunting whenever you choose to, despite the weather. Simply tune your reticle accordingly and shoot away.
Pay close attention to whether the reticle lies in the first or second focal plane. This will tell whether the reticle is displayed on the lens upfront or the one at the back.
First focal plane reticles are mostly adjustable with magnification, whereas second focal plane ones aren't.
In any case, the ability to change between different reticles is a desirable trait to have. This enables you to adjust your crosshair based on your hunting situation or the category of your prey.
For example, shooting moving prey would require you to have a thicker reticle and a thinner one for a large game.
Alternatively, using thinner edges will allow you to shoot targets better at long ranges.
Whatever the case, you must pay close attention to your hunting situation and purpose when looking into the scope reticle.
Magnification Power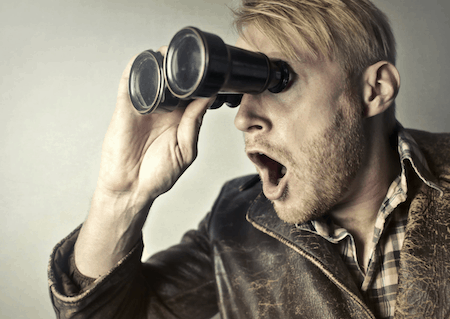 The reason most people invest in scopes is to shoot better at long ranges.  And the magnification power of the scope determines the extent to which your view will be zoomed in on.
The more the magnification power, the larger your targets will appear over long distances.
Before looking into this, you should first think about your desired shooting range and the type of target.
If you're more invested in shooting at long distances, try to get a scope with 8x or 10x magnification. This is ideal for birds and other small prey that need to be shot from a distance.
On the contrary, for those of you who are shooting at relatively short distances, using a 10x or 8x zoom would be too much. Instead, a 2x or 4x magnification would suit your better as it gives you a wider field of view.
Your FOV or field of view should always be wide enough to shoot your target, even if it moves slightly. Excess zooming would prevent that from happening.
When browsing through your options, you will come across scopes that offer adjustable magnification settings.
These are very versatile as they allow you to set your scope according to your hunting mood. They also tend to save costs as you won't have to invest in two different magnification powered scopes.
Eye Relief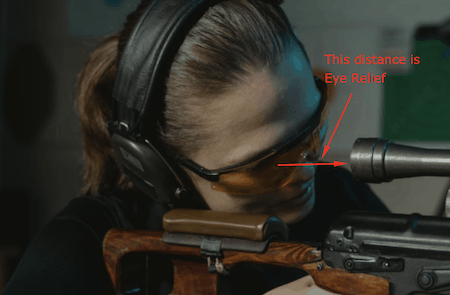 Now other than performance and durability, the scopes need to be comfortable to look through. This is important as you will spend most of your time sticking your face to the scope.
High chances are you won't be able to unlock your full potential when it comes to shooting.
This is why you should focus on the eye relief of the scope.
What is eye relief? Let us explain.
When looking through binoculars, you'll notice a black ring forming around the image. With sufficient eye relief, this ring would not appear. And as you can tell, it limits your field of view.
For some people, a little eye relief is tolerable, but not when you wear glasses though. When shooting with glasses on, you have an extra layer between the scope and your eye.
This increases the size of the black ring to limit your FOV. On average, 15mm of eye relief should be adequate enough for people with glasses.
The best scopes come with sufficient eye relief that doesn't look like a dark circle around your image. This enhances your focus on the target and reduces the chances of missing.
Adjustable Windage and Elevation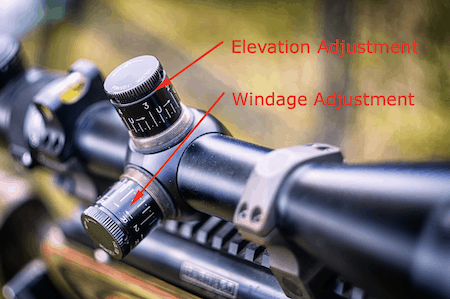 When you mount your scope to the rifle, it needs to be adjusted for windage and elevation. This means adjusting the alignment of the scope vertically and horizontally. The windage and elevation adjustment will give you more accurate shots.
Right out the box, you will notice the two knobs on the body of your scope. Rotating the dial on the top will allow you to adjust the elevation of your scope. Elevation refers to the vertical movement of your scope upon twisting the knob.
On the other hand, twisting the dial on the side will change the windage or horizontal alignment of the scope. Adjusting the two helps you to account for how much the bullet drops over long distances, resulting in accurate shots.
When you're out in the field hunting, scopes with tactical feedback on their dials can come in handy. Tactile feedback allows you to adjust the windage and elevation without having to look on the dial.
Instead, you can count the number of clicks you need to get to your preferred setting.
There are certain scopes that come with a true-zero feature. These scopes are configured to recalibrate after each shot. They tend to save you tons of valuable time in high-paced hunting situations.
Water, Shock, and Fog Proofing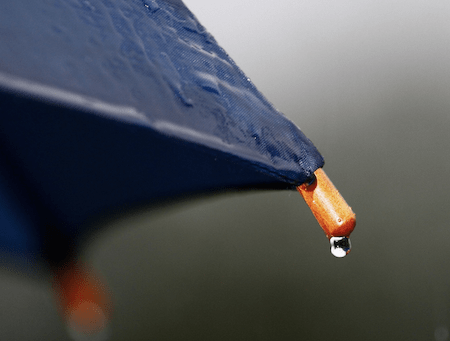 This is a must-have feature for any reticle you decide to invest your money on. Without water or fog proofing, you would have to let the weather decide whether you can go hunting or not.
During cold winters or rainy conditions, water and fog proof scopes will prevent any sort of moisture from seeping into the scope body. Also, Nitrogen and Argon purged scopes are able to better keep your lens from clouding up.
This is necessary as the cold winters might cause moisture inside the lens to condense within the lens. The moisture might lead to permanent water droplets inside your scope body, which can be tough to get rid of.
Shock proofing is a must as your scope will be subject to heavy recoil from your rifle. As this is a recurring event, any scope that cannot withstand such shock will deteriorate quickly.
Aluminum construction and multi-coated lenses are a good combo of features that offer optimum shock resistance.
Different Types of Scopes
With the various different types of scopes available in the market, it can be quite perplexing to choose the right kind for you. Below are some of the common types you might come across.
These are probably the simplest scopes in the market. As the name suggests, it comes with a fixed magnification setting without any adjustment dials. This means you will not be able to zoom in on your target if it is a little out of your range.
Unlike the fixed scope, this one allows you to adjust the magnification level according to your needs. Printed on the body of the scopes are numbers that tell you details about the lens and magnification power.
For example, a scope with the numbers 3-9X56 has an objective lens of 56 millimeters with a magnification power of 3X to 9X.
These are specifically made for close to medium range shooting situations. The tactical scopes are mostly used by the military as they offer accurate shots over shorter distances.
In general, the magnification power doesn't go above 4X for these scopes. This allows you to get the right field of vision and catch targets faster within your crosshair.
If you've played shooting games, this is no stranger to you. Night Vision scopes are best for shooting at low or even no light conditions. With infrared illuminators integrated into the scope body, you will be able to spot your target in pitch-black environments.
These scopes are very popular when it comes to short to medium-range shooting. Red dot sights come with little or no magnification settings. They use light rays to display the reticle onto your scope, which allows you to aim and shoot.
Holographic and Reflex Scope
There are holographic and reflex sights that are similar yet slightly different to red dots. But when it comes to the construction and purpose they are used for; you can categorize them together.
Holographic sights use the emission of lasers within the body to display your reticle. The reflex sights, however, use the reflection of mirrors within the scope body to display your reticle.
How to Mount a Scope Properly?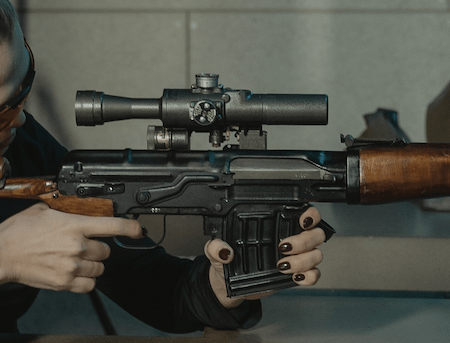 Mounting a scope isn't rocket science, and so you don't really need to go to professionals.
Here are some steps that will allow you to mount your scope the right way.
Scope rings are needed to secure your scope to the rifle. Choose hefty rings that match the diameter of your scope and are of the ideal height.
Unload your rifle before mounting your scope. This acts as a safety precaution. Simply pull out the magazine and check the loading chamber.
You need to make sure the scope is mounted at the lowest height on your rifle. When placing the scope, keep a lookout on the scope body as it should not be touching the rifle barrel.
After placing the scope, tighten the screws at the base. Don't tighten each side independently; rather, alternate between screws to ensure proper alignment on the scope.
The best way is to switch between screws after two full rotations of your screwdriver to keep it balanced on both sides.
Check whether the rings are aligned with the scope. If not, make sure to readjust them until they are in line. Not doing so will increase the impact of recoil and damage the lens of the scope.
How to Sight In Your Scope?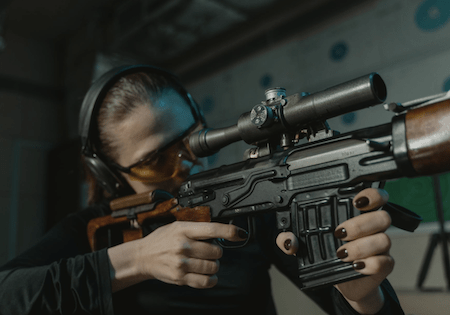 When we talk about sighting in, it initially means adjusting the windage and elevation. This makes sure that your barrel is in line with your crosshair, so you make precise shots. Below are some steps that will help you sight in your scope.
To start off, you need to roughly align the scope to the rifle barrel. With this step, you are estimating a rough zero using your naked eye without any calculations
Rest your rifle on a bench or a couple of bags in order to get a firm shooting base. This will ensure your rifle doesn't go off balance once you take the shot.
Take roughly three to four shots to get a rough measurement of how much you need to adjust.
Turn the dials on the top and side to adjust your scope for windage and elevation. Afterward, take a couple of more shots to check further.
Once you find the right zero settings, you need to keep a couple of things in mind. Be sure to keep in mind the weight of the bullet used and the range you adjusted the scope for.
This will help you adjust the rifle next time when using similar bullets and ranges.
Tips for Scope Maintenance
Luckily for you, scopes these days don't require much maintenance. This makes them readily available whenever your heart decides to go shooting.
In any case, here are some basic tips to help you keep your scope squeaky clean.
Clean your scope at calculated intervals. If you go outdoors to hunt frequently, clean your scope at calculated intervals to prevent the build-up of dirt.
Do not ever try to pick your scope apart in order to clean it. This is risk leaking any of the Nitrogen or Argon purging the manufacturers may have put in.
Always try to carry a piece of microfiber cloth to clean your lens. Using the end of your sleeve or any other material might leave permanent scratches on the lens coating.
Don't use any cleaners on your lens except water or specific lens cleaners. Other types, such as glass cleaners might damage the layers of coating on your lens.
The best tip is to keep your fingers away from the lens at all times. Sweat or oil particles on your skin can easily react with the lens coating and cause permanent damage.
Top-Rated Brands On The Market
Here are the brands you should know about.
Leupold & Stevens, Inc.
With generations of experience, Leupold has maintained a stronghold in the market for scopes. Excelling in terms of durability and image quality, the Leupold scopes are ones that last you for ages.
The best example of their excellence in quality is the fact that the US Navy and Army Snipers use Leupold scopes.
Bushnell Corporation

Initiated from a binocular business, the scopes from Bushnell have an exceptional lens quality.
With long years spent making and innovating magnification lenses for binoculars, Bushnell has gained quite the experience. This has allowed them to excel in the scope market by making HD resolution objective lenses.
Specifically designed for outdoors, scopes from Bushnell are quite favored by hunters and competitive shooters.
Vortex Optics
When it comes to affordable price tags with no compromise in performance, you can't go past Vortex Optics. The scopes from these guys will blow your minds with their durability and high-quality build.
With an emphasis on rugged designs and top-notch lens quality, Vortex Optics will serve well worth your money.
Frequently Asked Questions
Can I use any scope on my rifle?
Scopes are made to fit most rifle settings but to understand compatibility, refer to magnification power.
If you own a long-range rifle, you will need a scope that has high magnification settings.
Similarly, rifles used for short to medium range situations will not require a 24X scope.
What are some of the most recommended brands?
The favoritism towards brands differs from one price range to another. If you're looking to get the best out of your scope, then Nightforce is a good brand to start with.
In a close competition, scopes from Leupold are also quite, if not equally, durable.
When it comes to affordable scopes that don't compromise on performance, Vortex is the first name that comes to mind.
Why do I need to sight in my scope?
Sighting in is important as it boosts the accuracy of your rifle. By rotating the turrets on the top, you will be able to align the barrel of your rifle to your reticle.
Why does the weight of the scope matter?
If you notice, scopes are built out of the most lightweight yet durable element, Aluminum. This is important as heavy scopes will increase the impact of the recoil, making it harder to stay on target.
When you're moving around with your rifle, the weight of the scope will also have an effect on maneuverability. Lightweight scopes are easier to carry around and take shots with.
What does the first focal plane mean?
Reticles in the first focal plane are adjustable according to your magnification settings. This means that the reticle will get bigger or smaller according to the level of zoom you're using.
However, this is only the case with adjustable reticles. There are scopes that have their reticle on the first focal plane without it being adjustable
Final Words
Choosing the best rifle scopes can be quite difficult, given all the little details you need to take into account.
Keeping in mind your rifle type and desired magnification should allow you to get one that suits you best.
We hope our in-depth review aids your decision-making process.
Good Luck!