There is no doubt we are all looking forward to the day when we can safely leave our homes and travel once again.
As of this writing, most states are issuing stay-at-home orders to help slow the spread of COVID-19. Many state and national parks are temporarily closed to the public.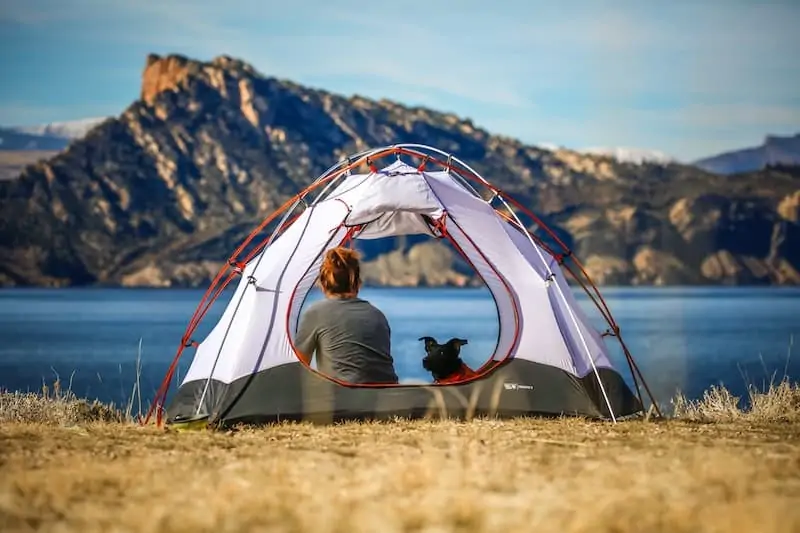 As much as we wish we could be camping in the great outdoors, we simply can't until the spread of the virus is safely under control.
If you enjoy spending time in nature (or you are simply sick of being stuck inside your house), chances are you are looking forward to the day campgrounds and parks reopen.
Getting back to the great outdoors will certainly be an exciting time! However, since over 40 million Americans go camping every year, it could be a potentially dangerous activity. It may not be possible to have such large gatherings right away – even in the outdoors.
The National Park Service has already issued a statement regarding the changes in park operations being put into place as a result of COVID-19. Currently, some national parks are going to limit the number of people allowed to gather in groups of ten or less and require social distancing practices with other campers.
But, this of course is just the beginning. Public gathering places – including parks and campgrounds – are going to have to change their policies to keep people safe.
There is no doubt that camping will look a little bit different than how it did in the past due to the impact of COVID-19. The world is going to have to operate in a different way to keep people safe – even after the threat has passed.
So, here's everything you need to know about planning your first official camping trip in the post-pandemic world to keep you and your loved ones as safe as possible.
Bring Your Own Sanitation Supplies
Keeping surfaces clean is more important than ever before. Scientists have concluded that dangerous viruses (like COVID-19) can survive on metal, wood, and plastic for up to 72 hours.
Even though the threat of coronavirus may be less prevalent at the time when campgrounds are re-opened, it will certainly be a good idea to sanitize everything that your family comes into contact with, even out in the wild.
Before going on any camping excursions, you will want to stock up on sanitation and cleaning supplies that are safe to use in nature. Hand sanitizer is certainly necessary, as well as soap and disinfecting sprays.
But, you need to be careful about the cleaning supplies you bring along. Unfortunately, cleaning chemicals that you would use in your home – like chlorine bleach – are not the best for use in nature.
If those chemicals seep into natural water supplies, it could poison animals and wildlife. Even traditional soaps contain chemicals like phosphates, surfactants, and antibacterial ingredients that can poison water and even soil!
It is generally best to opt for biodegradable soaps and cleaning solutions that will not harm the environment or pose any dangers to wildlife.
Using a multi-purpose cleaning solution like biodegradable castile soap is safe on the environment while still being quite harsh on germs.
This type of soap can even be used as shampoo, body wash, dish soap, surface cleaner, and much more. Simply mix the soap with water to wipe down tables, chairs, and cooking surfaces to remove harmful germs.
If you're looking for a quicker and easier option, consider biodegradable wipes. These will eventually break down and compost, so you don't have to worry about filling up landfills with dangerous chemicals.
Personal hygiene will be even more important to keep you and your family healthy while camping. Be sure that you wash your hands thoroughly and often, particularly before eating or drinking.
Of course, this can be a bit tricky, especially if you are out in the middle of nowhere and do not have access to running water. Furthermore, you will certainly want to avoid public shower houses and restrooms as much as possible, since they can be feeding grounds for bacteria and viruses.
Instead, consider purchasing a camping shower bag so you can safely rinse off from the comfort of your own campsite. Bring small containers of hand sanitizer with you on hiking trips or other excursions, and wash your hands multiple times throughout the day.
Finally, be sure that your food and drinking sources are safely sanitized to prevent other types of contamination. The CDC (Center for Disease Control and Prevention) recommends various water treatment methods to remove dangerous pathogens and bacteria, which can cause serious sickness if consumed. You should always test spring water before drinking.
Be Better to the Environment
One of the greatest things to come out of the pandemic is that it has been a time for nature to heal.
One of the latest research studies from the National Center for Biotechnology Information has shown that biodiversity in nature has increased and improved, along with the air quality of many national parks.
Camping grounds and other natural sites are flourishing – and it shows us that we need to be better to the environment in order to truly enjoy its beauty.
While camping is generally a fairly eco-friendly activity, there are ways to make sure that your camping trip is mindful of the environment. In addition to using biodegradable cleaning products, consider other ways to reduce waste, and utilize green resources.
Campfire or a kerosene lantern can give you the real feel of nature but can't fulfill all our modern needs. For instance, choosing reusable power sources like rechargeable batteries is a great way to reduce your consumption of energy.
Green energy sources like solar power are really the best option for campers since they can easily recharge by setting the panels in direct sunlight.
Thankfully, there are plenty of great portable power options these days. Most are small enough to fit inside a backpack and be used wherever you pitch your tent.
Solar panels can generate enough power to keep cellphones, cameras, and other electronic devices charged, but are small and light enough to fit inside a backpack for easy mobility.
Now, opting for solar power on your camping trip is not a one-size-fits-all solution. There are many factors that come into play – how many people will need access to the power, how long you'll be gone, what you need to charge/power, etc. Be sure to consult a portable power supply guide before you dump a bunch of money into new equipment.
Using this type of power – instead of stocking up on extra batteries or relying on a gas-powered generator – is not only better for the environment, but it is also far safer and more convenient.
Generators are heavy and expensive, plus gas-powered ones can pose a fire hazard. Small, portable power sources are really the best option.
Out of convenience, many campers will bring pre-packaged snacks, paper plates, plastic cutlery, and cases of water.
However, these really aren't great for the environment – and many of these items are dumped at campsites, creating pollution and endangering wildlife.
Try to avoid single-use plastic when camping and choose reusable items instead. If you want to travel light, opt for light-weight wooden or plastic plates and cups, bamboo silverware sets, and silicon water bottles to lighten your backpack load.
You can even purchase reusable filtered straws to sanitize your water so that you do not have to lug around large containers.
Finally, try to use recycled materials as much as possible rather than buying new ones. Repair tears in your tent or sleeping bag instead of buying a new one, or shop through resale stores for second-hand items.
Rent or Purchase Clean Equipment
Camping grounds are not necessarily known for their cleanliness – and chances are that they do not have a cleaning crew on hand to sanitize the area.
So, any items that are available for all campers to use (like grills, boats, fishing gear, or sporting equipment) might not be very sanitary.
Rather than using from places whose sanitation policies are unknown or using items at the campsite, bring your own supplies when possible.
If you want to cook out during your trip, consider purchasing a campfire grill grate so you can safely roast your food without having to use the ones provided at the campsite.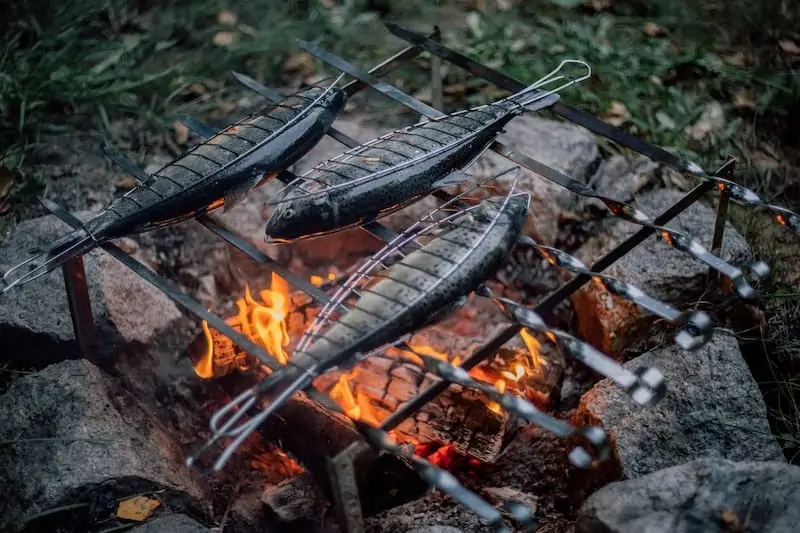 Now, it may be more difficult (and expensive) to purchase larger gear like kayaks, boats, water skis, or even some hunting equipment.
Renting from a camping supply company may be a better option. Many businesses will be held to stricter sanitation standards post-pandemic – but just to be sure, you can always ask about how their products are cleaned between rentals.
And, as always, wipe down surfaces with disinfecting cleaning supplies before using them yourself.
Be Prepared for Anything
If the pandemic has taught us anything, it is that you never know what could happen next – so be prepared for the unexpected. Now is a good time to refill your stash of any medical supplies or other items for emergencies, such as:
Bandages
Alcohol and hydrogen peroxide
Bug bite treatments
Learn to keep bugs away
Pain medication
Fever reducer
Allergy medication
Prescription medications
Emergency supplies like Epi-Pens
It is also best to carry a list of important safety information (including doctor's phone numbers, emergency information, and family contacts) along with you at all times.
While most of us rely on our cellphones for this information, they will be of little help if your battery dies or you are in an area with no cell service.
Always be sure that you have extra food and water supplies on hand, too, particularly if you are camping in rural areas, like Alaska.
It is also a good idea to purchase items like emergency blankets and patch kits in case you are caught in unforeseen weather conditions.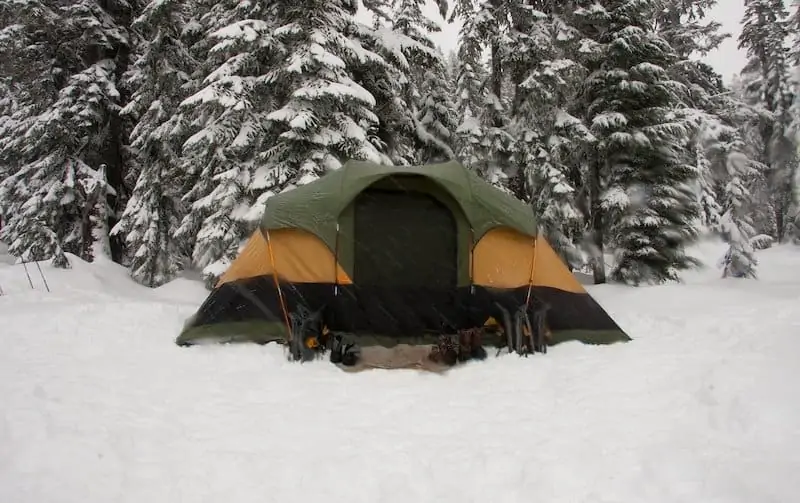 Sanitize Before and After Your Trip
It is usually pretty hard to keep everything truly clean while camping out in the wild. Do your best to sanitize all of your gear before and after your trips.
The CDC has stated that household bleach or disinfecting sprays like Lysol are best for killing coronavirus and other potentially harmful bacteria and pathogens. Spray down all hard surfaces with a diluted bleach spray or cleaning product to kill these germs.
If you are bringing your own cooking supplies like pots, pans, knives, cutting boards, and so on, soak them in disinfectant before and after you use them. Some products can also be soaked in hot water with a few tablespoons of bleach for a deep, disinfecting clean.
You may not realize that fabrics can also spread germs, too. While you are camping, do your best to separate dirty, soiled clothing from other items by placing them inside a sealed bag or container.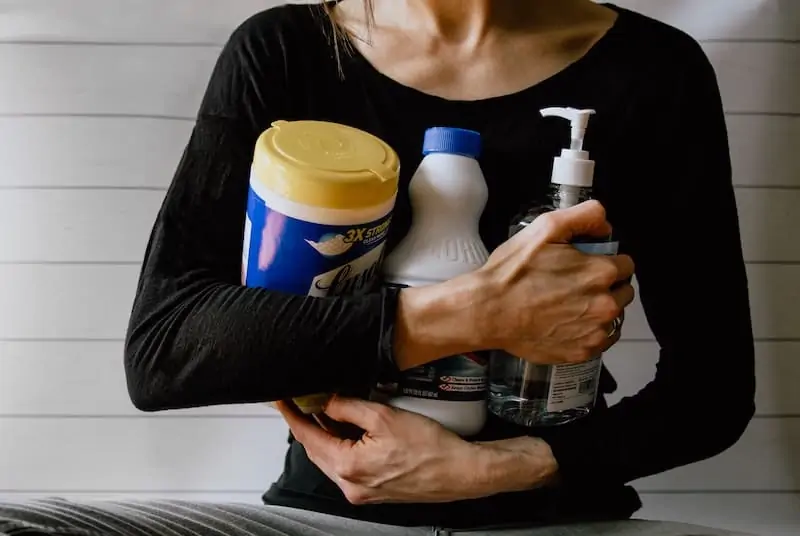 After you return home, place all clothing, blankets, camping cots, and sleeping bags in the washer with disinfecting detergent.
Wash in the hottest water setting recommended on the clothing label. This will help to remove any germs that may have gotten into the fabric and prevent you from transferring it into your home.
Even if you are camping in your own RV or van, you will want to do a very thorough cleaning after each trip to both the interior and exterior of the vehicle.
Pay extra attention to frequently touched surfaces, like door handles, seatbelts, tables, and light switches.
Conclusion
After stay-at-home measures are lifted and people are safely allowed to leave their homes, there will no doubt be a rush to national parks and campgrounds.
We have certainly learned to be grateful to nature during this time, and hopefully, this appreciation for the beautiful world around us will continue long after the pandemic.
However, the health and safety of you, your family, and the people around you will always be a top concern – particularly post-pandemic.
It is super important to know how to best prepare for your next camping trip so you can be as safe as possible.
By following the appropriate cleaning practices and making smarter decisions with consumption, we can all have a safer and more enjoyable camping experience.