Spending time outdoors has been proven to have a positive effect on both your physical and mental well-being.
We are all guilty of being more sedentary than ever nowadays, we all spend far too much time in front of screens and it's important to reconnect with the world around us.
There's no better way to do this than getting together with your friends and family, planning an adventure in the great outdoors, and getting out there to explore.
No matter where in the country you are located, you can be sure that there is a location not too far away, where you can sleep under the stars, walk some trails and enjoy all that mother nature has to offer.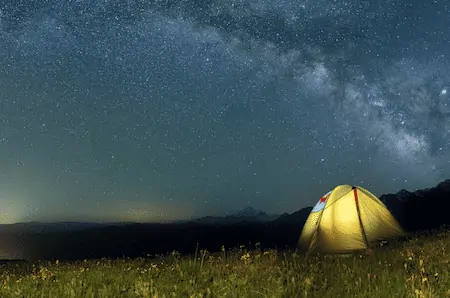 If you have never spent time outdoors before, it's crucial that you take the time to plan and prepare properly.
Spending time in the outdoors is always an amazing experience, however, how you pack and plan your adventure can have a huge impact on your overall experience.
There is a lot that needs to be considered from your clothing to your camping equipment to the location you choose to go to and, of course, the weather conditions.
However, by taking the time to plan, you can ensure that you not only have a safe time in the outdoors but that you enjoy every second of your adventure and it won't be long until you're planning your next trip!
5 Tips To Enjoy The Outdoor Camping
Let's take a look at some tips to help beginners to maximize their enjoyment in the outdoors.
#1. Check The Weather
Knowing what the weather forecast is before you set off is crucial for any outdoor adventure. If the forecast is for high winds or heavy rain, you might want to postpone your trip until the conditions are a little more favorable.
When you are checking the weather, make sure that you look at the forecast for where you are going and not where you are currently located.
If there is good weather forecasted, you can start packing your bags so you are ready for the big adventure ahead.
#2. Pack Properly
If you want to get the very most out of your time in the outdoors, it's important that you have the right clothing with you.
It's always wise to pack rain gear, no matter what the weather forecast is, as you never know when there may be an unexpected shower.
Lightweight, breathable clothing is always the best option as you can layer up and down easily to regulate your body temperature throughout the day.
Make sure you avoid cotton clothing as they will get damp with sweat, which can lead to you being cold.
#3. Avoid Carrying Too Much
If you are going camping or hiking, do your best to keep your backpack as lightweight as possible.
Carrying too much with you is a sure-fire way to get tired on the trails. Talk to your fellow hikers or campers and share as much of the communal load as you possibly can.
Things like tents, first aid kits, and cooking equipment should be split between the group where possible to ensure that everyone is carrying a similar amount of weight.
Evenly distributing the weight of these heavier items will ensure that one person doesn't arrive at camp wrecked tired at the end of the day.
#4. Focus On Footwear
One of the most important pieces of kit that you will need for any outdoor adventure is a good pair of hiking boots.
With a solid pair of boots, you will have enough traction on the trails, support for your ankles, and protection from scratches, stings, and even potential snake bites.
In fact, many experienced outdoors people will tell you that if there is one thing you should invest in, it is a good pair of hiking boots.
This should be a priority as with the right footwear you will be more confident and comfortable on the trails.
#5. Sun Protection
Finally, if you are going to be spending time outdoors in Australia, you need to ensure that you keep yourself protected from the harmful rays of the sun.
Spending hours in harsh sunshine can lead to all sorts of health issues and must be avoided. A wide-brimmed hat, sunglasses, UV-protective clothing, and sunscreen should always be in your bag.
Make sure that you take the time to reapply sunscreen regularly throughout the day so you remain protected.
Choose an eco-friendly brand to minimize your impact on the environment around you.
Stay Safe And Make Sure You Enjoy Your Time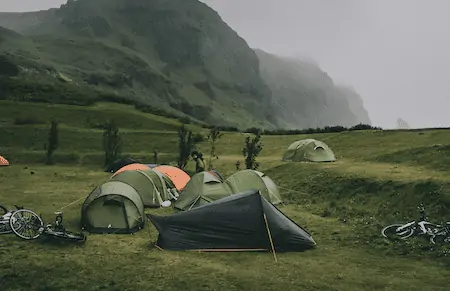 If you want to enjoy your time in the great outdoors to the maximum, make sure you follow the tips outlined above so you are fully prepared.
With the right preparation and planning, you can ensure that you stay safe and comfortable so you can make the most of all that Mother Nature has to offer.