Your backpack is usually the most essential gear that you need when you go out for any kind of adventure.
For an enjoyable journey, you will definitely feel the necessity of packing all the essential items that you need or might need throughout the whole trip.
But, the more you add items, the more it gets heavier and harder to bear on the back.
We all can relate to this scenario pretty well and hence there comes a question in your mind "How to make your backpack lighter"?
Well, here we come with a descriptive answer where you will get to know about the effective ways to make your packing lightweight.
Why is it Important to Make Your Backpack Lighter?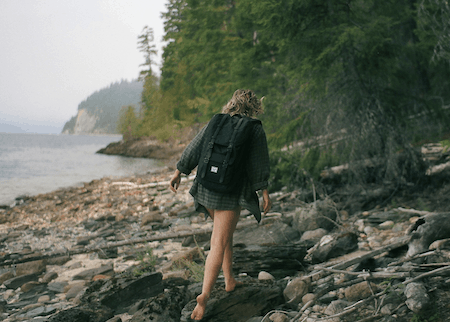 Before we go into the details of how to reduce your backpack's weight, it's important to know how a heavy burden on your back can affect your health badly.
If you are a person carrying heavy backpacks on a regular basis, over time you will discover that you are having back, neck, and shoulder pain.
And, eventually, you will notice that your upper back is getting curved and your shoulders are getting rounded in the long run.
Moreover, when you put a lot of burden on your back, it can cause unnatural compression of your spine vertebrates that can make your body lean forward as a result, leading to a bad body posture.
Meanwhile, narrow shoulder straps pinch the nerves and interrupt regular blood circulation sometimes when the pack is too heavy.
This can result in serious bodily injuries without your concern.
So, because of all these reasons, it is very much important that you try your best to make your packing lighter for a relaxed journey and overall healthy life.
11 Tips to Make your Backpack Lighter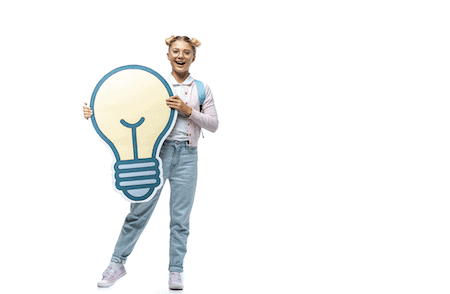 So, here we will be going through the most effective approaches to make your backpack lighter for a relaxed and sound trip.
#1. Select the Right Backpack
The very first rule to reduce the burden on your back is to select the right size backpack for your hiking trip.
Depending on the time duration of your journey, you might feel the necessity of less or more storage. The bigger the pack is, the more you are adding to its weight and initially, it makes your burden heavier.
If you are going to stay almost 3 nights on your trip, then it's better to pick a pack that comes with 30 to 50L of storage capacity.
When the journey duration is between 3-5 nights, the suitable pack would be between 50 to 80L of storage. However, any extended trip usually requires a backpack that allows you to store more than 70L.
When you choose your backpack for your next hiking trip, consider the time duration and select the right size to make your packing comfortable and lighter.
Selecting a pack that comes with more storage capacity than you require will insist you fill up the gaps with even unnecessary items, causing a heavier burden at the end.
Meanwhile, it is also suggested to invest in an ultra-light backpack that is specially designed for this very purpose. This might not sound like it makes a big difference, but in reality, it does.
Manufacturers know your specific problem with heavy backpacks, that's why they came up with such ultra-light options which are costly but effective enough.
#2. Plan Your Packing List Wisely
Before you embark on any hiking trip, good preparation and planning are very much important. You have to be cautious enough about what to pack and what not, for that reason you need to go through your packing list thoroughly.
Every time when you come back from a trip, you find some unused items that you thought would be surely used throughout the whole journey.
From your past experiences, you have to figure out what are those common unused and less necessary items that you can cut from your packing list.
Knowing about your hiking terrain well also helps to pack your items wisely. Each terrain has its own unique nature and certain items might be more necessary than others for specific areas.
#3. Pack Your Essentials Only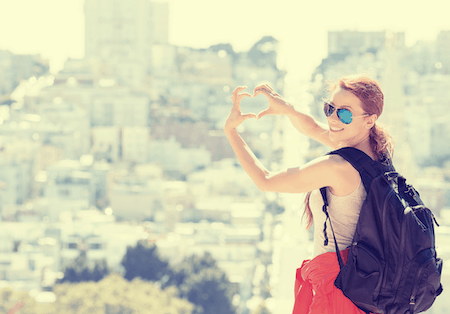 While you start packing your stuff for hiking or any other outside adventure, only focus on your essential items and try to skip unnecessary and less necessary ones.
Packing essentials only doesn't necessarily mean, you are not allowed to take items that are less used but life-saving goods for crucial moments.
It's just like, you better avoid packing things that are pretty much available to the nearest store of every hiking spot.
From your clothes to your sleeping bag, digital devices, water bladder, and first aid box, you know well what are those most essential items that you have to carry anyway.
The grey line between essentials and non-essentials is where you start thinking should I take it or not!
So, until and unless this thought hits, understand that you are usually packing the essential items.
#4. Go with Less Wardrobe
One of the most common mistakes that most of us make while packing for an outside trip is we tend to pack extra pairs of clothes in case we need them!
But, in most cases when you return from your trip, you find out that you didn't even wear those extra pairs and survived with just two or three regular ones.
Ask yourself, do you really want to make your burden heavier by adding those extra shirts, jackets, hiking leggings, pants, and underwear?
Usually, you can comfortably hike a whole week with just two or three pairs of wardrobes at max.
However, it's not appreciated when you need some specific clothes for specific weather conditions and you leave them home just to feel lighter on the back.
Yes, you need to make your pack lightweight but that doesn't mean you will risk fighting against the rough nature without appropriate clothes for that purpose.
Make sure you know about the weather condition of your hiking spot and pack your clothing accordingly, being minimalist as much as possible.
If somehow you need more clothes while having your journey, you still have the option to buy new clothes whenever you want.
So, packing fewer clothes is not a big deal anyway.
#5. Take a Pair of Shoes Only
Shoes are usually heavy and bulky that take a huge amount of space in any backpack.
Based on your walking and trekking requirements and terrain nature, try to take an all-purpose pair of shoes that you can wear everywhere you go.
However, taking a simple pair of sandals is not a bad idea for the rest of your walking needs.
But, considering more shoe options is definitely going to ruin your packing plan and make it much heavier for you to bear all the way with very little use.
#6. Pick up Ultra-light Shelter and Sleeping Bag
Hiking out in nature means you have to prepare yourself to sleep under the naked sky at night time.
And, a big part of your burden is added when you carry a sleeping bag, hammock, or tent to your backpack.
To ease the burden to a comforting level, you can invest in buying an ultra-light tent, hammock, or sleeping bag.
If you already have an ultra-light shelter, then you are initially ahead in the race of reducing your backpack's burden.
These kinds of shelters are usually made with the purpose to lighten your packing so that you can easily take other necessary items without worrying much.
#7. Compromise Taking Toiletries
Some hikers are super sensitive about taking their toiletry items even if they need an entire bag size space!
If you are really interested in making your pack lightweight, you must compromise with all those toiletries that you feel like taking into your trip.
When you take several creams, shampoo bottles, and a full box of bandaids into your backpack, it is pretty much obvious that you have to suffer the pain of bearing a heavy burden on your back.
In order to survive out in the wild, you don't need all those toiletry items just like your home, you can cut some of them from the list according to your comfort and convenience.
Moreover, you can buy these toiletries anytime from the nearest store to your hiking spot whenever you need them.
#8. Bring Fewer Books
Not every hiker is a book lover, but it's a great way to spend your resting hours reading some mind refreshing books.
If you happen to be a bookworm and can't think of any journey without books, then hold on for a second and reconsider it.
Taking books more than one or two is not an ideal choice when you are dedicated to making your pack lighter.
However, in this age of technology, it's not even mandatory to carry a hard copy of books that you want to read throughout the journey.
You can read your favorite books on your tab, kindle, or any form of a digital device according to your comfort as well.
So, it's better to switch to the softcopy version to reduce the burden of your pack.
If you are not that comfortable with softcopies, then try to bring as few hardcopy books as possible, after all, it's a hiking trip, not a reading competition anyway!
#9. Minimize Items in Your First Aid Kit Box
One of the most essential items you usually pack while going out in nature is your first aid kit box.
Yes, for any kind of emergency, a first aid kit is the first thing that you need before you are able to take proper treatment.
But that doesn't mean, you have to take a kit box fully stuffed with bandages, gauze, sterile pads.
It's nothing like, you will need all those first aid elements in case there is any injury.
Taking a few of them is enough for a whole team, so you can minimize your first aid kit items to a decent level with ease.
This might not seem to make a big difference, but when you combine all the approaches together, you will surely find it effective enough.
#10. Consider Water Supply Sources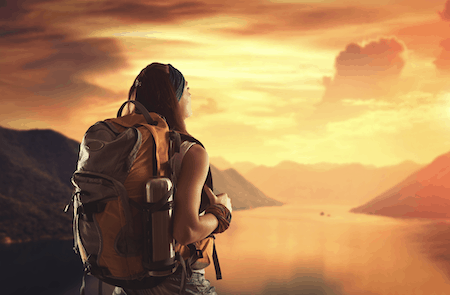 You definitely need to keep yourself hydrated to continue your journey until the pre-decided finishing line.
And, that's the reason, you usually carry a water bottle and also fill up the water bladder to ensure that your body is getting enough water from time to time.
But, what if you consider other sources of water to consume and you don't have to carry an extra 2/3 L of weight all the time into your pack?
When you are hiking out in nature, you usually find different sources of fresh water such as streams, lakes, and so on.
So, other than carrying water into your bottle or bladder, you can directly drink water from those natural sources and thus you can reduce the burden to some extent.
You can also switch to collapsible bottles to drink water which will also help you to lose some extra weight that you would have carried as an alternative.
#11. Don't Take Extra Food and Fuel
Going outside for an adventurous trip means you will be needing calories to make you keep going and also a fuel set up to make a fire for cooking and defense.
Dehydrated and ready-to-cook food items are best as they won't weigh much, giving you fewer worries while having your journey.
On the other hand, taking a single stove or Jetboil fuel is enough to make your lunch or dinner out there.
Don't try to overburden with extra fuel options if you really want to feel light carrying all your necessary items.
Minimalism goes all the way!
Final Words
Packing for your next hiking trip seems like a stressful task always, as you suffer from indecisiveness about what to pack and whatnot.
This usually happens when you don't have any clear idea about how to make your backpack lighter after packing all the necessary items you need throughout the whole journey.
As you have read the whole article, now you know the most effective tips that you can use to make your pack lighter with ease.