If you are out hunting in the cold seasons, you need all the help you can get to stay warm. Here are our tips and tricks for freezing weather hunting.
New to hunting or are you just sick of freezing in the blind in colder months? Whatever your reason for joining us today, be welcome. We want to talk about the correct ways to keep yourself warm while you are out hunting in the cold season.
Hunting doesn't stop with the good weather, nor do the animals truly hibernate like you believed when you were a child. They're out there, they're moving around, and they are sleepier than they have been all year.
For those die-hard hunters who follow the prey into the winter, here's how to manage those cold snaps without losing fingers or toes.
Beat the Cold While Hunting Using These 5 Tips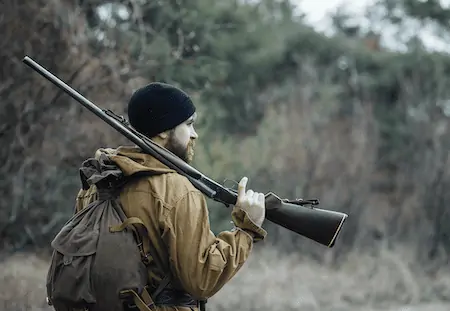 If you are determined to spend time in the wilderness during the winter months, try the following things. These apply even if you want to beat the cold in the warmer months, too.
You should always go prepared when you are hunting. Sometimes that means taking extra layers even if you don't think it will be too cold.
#1. Invest in Good Gear
Before we go any further, investing in good quality cold weather hunting gear is the best way to stay warm in the brush. Regardless of the time of year, hunting is all about layers.
Getting some nice Merino Wool layers, mixing them with waterproof layers, and adding more layers as needed, can all help you stay warm, even if you are rooted to the same spot for hours on end.
We appreciate that not everyone can afford high-end hunting gear, but it truly is worth the money. You will go through 6 or 7 vests in the same period that you would wear a single Merino Wool vest.
Real hunting gear has storage pockets, places for bungee cord, and extra support/resistance where it's needed. If you go out in your jeans and t-shirt in a cold snap, you're essentially risking your own life.
Being a good hunter means being prepared for any eventuality while you are out there. In the wintry weather, this becomes even more important. Save for the good gear and buy it a little at a time. It will be worth it.
#2. Layers are your Friends
Layering up that gear is the top tip that the old-timers always give to the new hunters. The more layers you have, the better equipped you are to survive.
You can accurately gauge the temperature from your camp but remember that it will drop a few degrees at night. Before you leave, make sure you have that extra layer you will need later.
Layer your clothing with long underwear' underneath, then a vest and light trousers. Put your waterproofs on over your trousers in harsh weather and add a third layer in snow.
On the top half of your body, add a t-shirt, then a jumper. Add your camouflage gear, a bodywarmer, and a jacket if it is cold. You can take off layers and carry them with you, or you can be cold. The choice is yours.
Don't forget that waterproof layer, either. It might make a little noise and scare the animals away, so we recommend choosing a waxen layer, instead of a shell suit material.
#3. Think Waterproof
If you are out in the field, living off only what you have in your pack, and you start to get wet – that's going to force you home faster than any other issue.
Once you get wet, you get colder, you start to lose that core body temperature. When you lose that, you either get off the hills and go home, or you risk dying up there.
Some hunters go poorly prepared out into the wilderness in the cold months, and they never come back (about 80-100 people a year depending on state, more here).
We cannot emphasize the importance of superior quality gear enough. Take your time, collect quality pieces, and make the superior quality motto run down to the basic things.
A decent quality tent will keep you dry, a cheaper one won't. Also, consider having a tent heater to stay warm all night.
A decent-quality hunting stove won't power through your gas in a night. A quality sleeping bag means you don't need to wear every layer you brought with you to get some sleep in.
Make your gear waterproof and check it before you leave.
#4. Base Layer Dominance
All good hunters – the ones who lived to old age despite mountain hunting in winter – will tell you that a good chilly weather hunting gear system starts with three key foundation pieces.
Look for something like the Hardscrabble series from SKRE. They do a jacket, pants, leggings, and vest which is designed for whole season use.
In the winter, you need to layer them up with other things for the added heat and padding, but they make a solid starting point.
#5. Think Heat Packs
There are lots of other tips we can give you to stay warm. For example, taking plenty of heat packs and using them when needed. It is also suggested to put cardboard in your shoes or in the layers between your clothing. This helps retain heat.
Heat packs can last for up to 12 hours. They can be placed on areas of your body that struggle for warmth. The best way to use them is to notice where your body is feeling cold the most, and place them onto your clothing, not your skin.
Heat packs are excellent apparatus for if you are on day two or three and your back/hips/legs hurt. They soothe, but they could also save you from frostbite.
Cold Weather Hunting Isn't for Everyone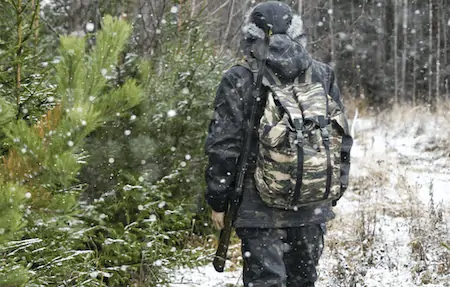 Last of all, chilly weather hunting isn't everyone's cup of tea and that's OK. You need the experience of a warmer weather hunter combined with the grit and determination of the hardiest hiker.
You must be mentally up to the task, as well as physically strong enough to take on the challenge. Most of all, you must know when to quit. If the cold is beating you, come home and live to talk about it.
That's really the only rule.