Wool, nylon, polyester, cotton – these are some of the common and popular materials we find on our clothes. But which material provides warmth even when wet?
Well, when it comes to the winter, seasoned hunters or campers require something to keep their bodies warm for long. But it's not always easy! Here, you need to consider the material of your cloth so that you can know if it's able to keep you warm even when wet or not!
The one that you're going to get should be waterproof or water-resistant. Wool has got a better insulating ability, especially in wet conditions.
On the flip side, the cloth made of polyester has extra layers, offering adequate protection in wet conditions. However, it's not as comfortable as wool.
Are you getting confused? Well, let us show you all the details about the materials. Stay tuned!
List of Materials 
Before moving on to the material selection part, the first and most important duty is to compare them based on their properties. Therefore, we've made the following list of all the things that you can compare.
Wool
Polyester
Nylon
Acrylic
Down
Laminated cotton
Waxed Cotton
How Do They Work?
Here, we'll be discussing a number of factors, including insulation, warmth, water resistance, and breathability of the materials so that you can easily get yourself the right one.
Wool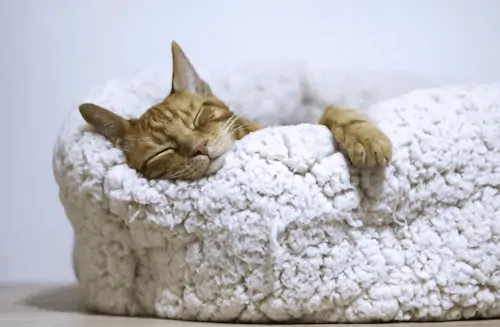 Hands down, wool is one of the major materials that you can use to stay warm even in wet conditions. Therefore, it's crucial for you to know the different aspects of the wool that we've tried to cover in detail.
Undoubtedly, wool can be called the best material to provide you warmth even if it is wet. It provides layers of insulation for coats, jackets, and clothes. Undoubtedly, no material can regulate temperature like wool.
Wool is a purely natural material that comes from animals, and it has a soft and fine texture compared to other typical fibers. It's not annoying to your skin at all.
The wool-knitted clothes are breathable as it absorbs moisture rather than releasing it. That's the reason why you won't sweat that much by putting on something made of wool. In fact, it can trap bad smells as well, keeping your body odorless.
Though wool isn't waterproof, it serves well to provide you the maximum protection against water. It has an insulating ability in wet conditions, and it can resist water quite comfortably. The wool needs much time to dry as well as to wet.
As you know, the wool itself comes from nature, and no chemicals are required to process the wool from the animals. So, unlike the other toxic exposed materials out there, wool is a much safer option for the environment.
The wool contains some qualities that make it even better than all the other materials, such as fire resistance. It means it doesn't melt or catch fire as easily, and surprisingly, it also can work as an extinguisher.
In addition, it decomposes when dumped into the soil. Therefore, the soil gets its nutrients as well. Not only that, but it's also easy to weave and knit to form fashionable attires, which will keep you warm for long.
Polyester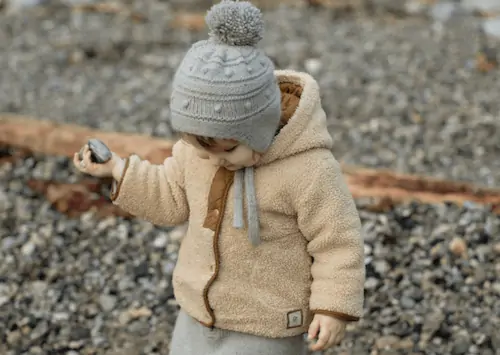 There's a misconception about polyester that it's not warmer than wool. But, it's not true. Honestly, if you want something that will keep you warm for a short time activity, then polyester fabrics can be a smart choice.
On the other hand, you can equip a cloth that has extra layers of polyesters for long-term activity. Though it's not comfortable like wool, it can certainly keep you warm in wet conditions.
Plus, the weight of polyester-made materials is comparatively low. That's also one reason for them to be cheaper. For example, fleece can be a softer and inexpensive fabric to prevent you from catching a cold.
Another advantage of the fleece is that it doesn't shrink. So, you won't need to face any difficulties to find better fitting clothes. Compared to wool, it dries quickly, but it doesn't mean it can't lock your body heat.
But, keep in mind that the fleece is not breathable; as a result, it can resist water like no other materials. Also, they're not fire-resistive and quickly melts if it catches fire.
Nylon
Nylon is a waterproof material that is mostly used on umbrellas and raincoats. But, what a lot of people don't know is that they are not actually waterproof, but in fact, water-resistant. Yes, they can surely ignore water, but it happens due to the tight knitting and a little bit of assistance of the polyester materials.
Though they don't get wet, they are unable to keep you warm like the other materials on the list. But, for a short period of time, you can manage to keep your body heat trapped inside the nylon, hopefully!
Acrylic
If you're looking for average protection, then having something of acrylic will be just fine. Most people choose it specifically for the glorious looks rather than the benefits.
It doesn't insulate quite well in wet conditions as it's not a breathable fabric. Though it keeps you warmer with its heat retention property, it can't revive your body heat.
Good to know, acrylic captures your sweat to provide you a wee bit of warming sensation even if you're wet.
Down
Talking about a genuine insulator, down can be a perfect example. It comes from the feathers of ducks or geese. So, you can understand why it's heat resistant as well as a bit expensive.
In general, the down is used as an interior layer (mostly waterproof) to provide maximum comfort. Since it's capable of resisting optimal heat, you can keep yourself warm for long by wearing something made of down.
Laminated Cotton
You can already guess by the name that these aren't ordinary cotton but natural laminated ones. The lamination makes it waterproof to be used in wet conditions like rainy or snowy seasons.
Often these fabrics are used for making windcheaters, ski wear, raincoats, and many more as they're breathable and flexible. Also, they're very much comfortable as protective clothes.
Waxed Cotton
These kinds of cotton are famous for their water-resistive nature as well as their aesthetic appearance. Although they're a little bit pricey, the surrounded surface of the wax and fold makes it more than just a regular cloth to prevent wet or cold conditions.
Waterproof vs. Water-Resistant
So, now you have learned about different materials but are still confused between the waterproof and water-resistant materials?
Well, it's an obvious situation for you to get confused at this point. But guess what? You're just a step away from getting the solution that you're waiting for.
Waterproof
The materials that block water from getting in contact with your skins are waterproof. If your cloth can stop water from getting you wet, then you can certainly gain some advantage in the cold seasons.
But, not all waterproof materials can help you to regain your body heat. They're limited to only blocking the cold from you for a short amount of time.
Water-Resistant
These materials are difficult to get wet because of their resistive nature. It also means that they'll take more time to dry.
If the cloth you have is water-resistant, it'll hold your body heat and keeps you warm for a longer period of time.
Which Is Warmer?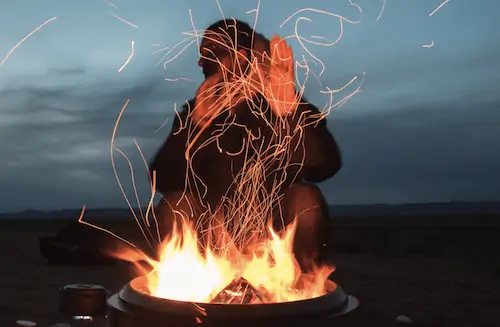 It actually depends on you or your current situation whether waterproof or water-resistant material is warmer or not.
If you want a warmer material for a short time activity or occasion, then choose waterproof materials instead of others. Because they'll prevent water from getting in touch with you, the heat will also be trapped for a certain time.
But, to resist more than the usual time, water-resistive materials can provide an excellent result. In that case, if you choose high-quality material like wool, you may regain your body heat to stay warm even when wet!
Lastly, we'd recommend you to consider your needs and situation, and then decide what to choose.
Wrapping Up!
As a hunter or camper, it's necessary to know which material provides warmth even when wet, especially if there's snowing or raining outside. According to our research, wool is the best material to select in order to keep the whole body well-heated.
Though there are some other available options to choose from, we think wool will give you maximum warmth in the winter and rainy seasons.