Very few places on Earth combine the breathtaking views and challenging terrain with the ease of access that you find in the Alps.
This mountain range mark where France, Italy, Switzerland, and Austria all come together so you can access it from all sides. The well-developed transportation system in Europe makes getting to the trailheads easy and relatively affordable.
The mountains are relatively young making for steep jagged peaks that are snow-capped most of the year. Most of the hikes have large elevation changes and end up at fairly high altitudes making them challenging even for the well-trained hiker.
The Alps are home to some of the most spectacular hikes in the world while being some of the easiest to access.
We avoid summiting the highest peaks as most of these require technical mountaineering skills but a few of the hikes require you to use crampons for traversing snow and ice.
The Most Spectacular Hikes In The Alps
The Alps are covered in countless trails so it is hard to nail down which are the most breathtaking so we've focussed on the epic multiday hikes.
These hikes have everything from glacier crossings, high mountain passes, crystal clear lakes, soaring waterfalls, and views that make you realize how grand the Alps are.
Even if you aren't up for hiking for over a week it will give you a good idea of where to go to see some of the most stunning views on earth.
#1. Tour Du Mont Blanc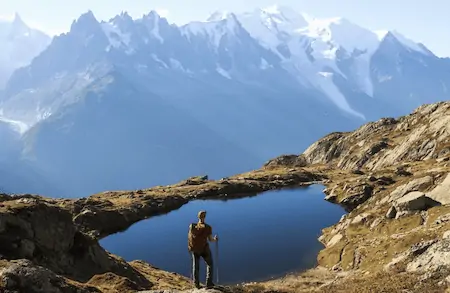 On the border of France and Italy, Mont Blanc is the highest peak in the Alps acting as the focal point of the surrounding area.
From Chamonix in France, you can do either do short hikes in the valley that give breathtaking views of the Mont Blanc and the surrounding peaks or do a multiday backpacking trip that will take you through three countries.
The Tour du Mont Blanc is a once-in-a-lifetime trek that takes you in a loop through 7 mountain valleys around the massif of Mont Blanc.
You will move in a loop from France, Italy and into Switzerland, and back again, covering 170 kilometers. People usually do this route in 7-10 days, staying in mountain huts, tents, hotels, or a combination of the three.
#2. Haute Route (Chamonix, France to Zermatt, Switzerland)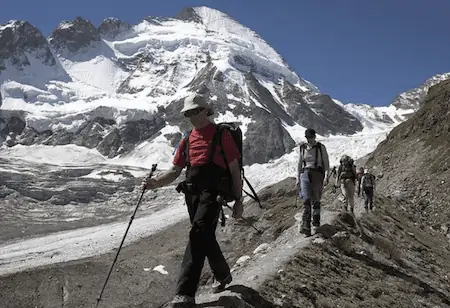 The Haute Route is one of the original long-distance treks in the Alps.
Originally complete by British mountaineers in the mid-1800s, the route takes you from Mont Blanc in France to The Matterhorn in Switzerland. The route is 180 kilometers and takes most people 12 days to complete.
This trek combines both rugged mountain hiking with glacier crossings and steep snow slopes. If you aren't experienced with crampons and navigating in high alpine conditions you can book a guided trek.
They will teach the techniques needed and help you avoid risky situations you might not be aware of.
For people who don't want the technical aspect, you can do the Walkers Haute Route which doesn't take you above 3000 meters.
It follows well-marked trails and keeps you off of the glaciers making the use of crampons and ice axes not necessary. While less technical it still offers amazing views and challenging days of alpine hiking.
Along the way, you will stay in high mountain huts and quaint alpine villages which adds to the beauty of the experience.
#3. Tour de Monte Rosa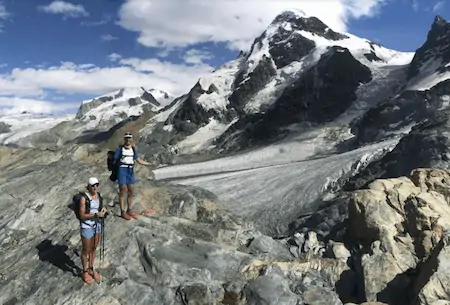 The Tour de Monte Rosa covers a 164 km loop between Switzerland and Italy, taking you around some of the most iconic mountains in the Alps.
The Monte Rosa Massif and the Matterhorn dominate the skyline for days of the trek with deep green valleys alternating with high alpine passes.
The Tour de Monte Rosa is a high-altitude adventure with the route staying above 6000 feet for its entirety and hitting over 10,000 feet going over some of the mountain passes along the way.
It is both strenuous and beautiful. Make sure you've spent a lot of time on the stair climber in the gym before heading onto this trek or your legs might never forgive you.
The route takes you 8-10 days with over 12,000 feet of elevation gain. Bring your crampons for the self-guided glacier crossings and appetite for the great food that is served in the huts along the way.
#4. Tour des Ecrins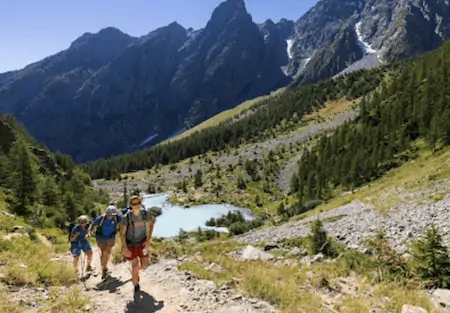 Located in Ecrins National Park in France, this trekking route in the high Alps follows the GR54 trail system on a 180-kilometer loop.
Being in a national park the terrain is unspoiled with commercial development offering up a true wilderness experience in the heart of Europe.
Unlike most of the treks on our list, the Tour des Ecrins will appeal to the experienced backpacker who loves to camp on their treks.
While you will pay for a pass to the national park, this trek will be less costly than most as you don't have to pay for accommodation or food at restaurants or mountain huts.
Europe doesn't offer as many wild camping options compared to trails in the United States but this is one of the great wilderness adventures within the Alps.
Located southeast of Grenoble the park is easily accessible to the international traveler. For cycling fans, the park is located just south of the famous Alpe D'Huez climb that is often featured in the Tour de France.
You can rent a bike and ride the epic climb yourself as part of this trip making for a double checkmark on your bucket list.
#5. Eagles Walk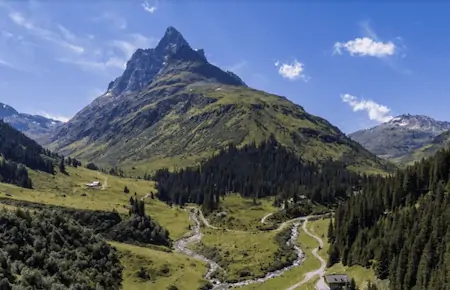 No list of epic treks in the Alps would be complete without talking about Austria. The Eagles Walk like the name implies, takes you to the heights along the whole length of the country.
At 413 kilometers it is the longest hike on our list taking you through the Tirolian Alps. From alpine meadows to snow-covered peaks the overall profile will see you climb 31,000 meters in 33 stages making for both challenging hiking and unparalleled views.
There are a mix of huts and small mountain towns that host you along the way. Great chocolate and cheese will help fuel your trek, as all the miles earn the right to eat anything you want.
A rest day in Innsbruck, the Olympic host town, will give you a chance to experience the hospitality of the reputed capital of the Alps.
This is a great contrast to the wild beauty of Austria's highest peak the Grossglockner at 3,798 meters. The Eagles Walk is a great mix of the majesty of the mountains combined with the creature comforts.
The many miles on the trail are rewarded with good food at the end of the day and a well-deserved soft bed.
What To Bring On A Hike In The Alps
It is important to be properly equipped when you are hiking the Alps as you don't have to be very far from the trailhead to be inaccessible to emergency personnel.
The terrain makes it so even a minor injury will translate into a helicopter rescue.
If you focus on the 10 Essentials of mountain hiking plus traction devices and emergency communication, you will be able to handle most situations until help can get to you.
Gear List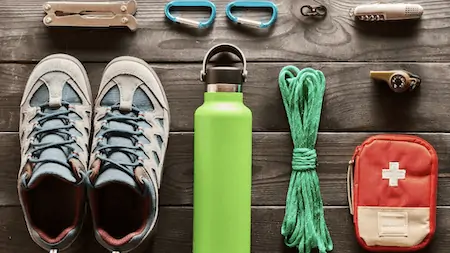 Lighting
You might not plan on being out after dark but plans have a way of changing when you are on the trail. Always bring a headlamp and hiking flashlight with extra batteries.
Sun Protection
If the weather is clear you will be under the sun for most of the time as the Alps have very little tree cover.
This is especially true if you are hiking in the snow as it will reflect the sun's rays back up at you. Bring sunglasses, a wide-brimmed hat, long sleeve clothing, and sunscreen.
Navigation
You don't want to get lost in the mountains so it is important to have navigation gear and know how to use it. We suggest maps and compasses as well as electronic tools such as cell phones or GPS devices.
If you are using your phone make sure to download the maps for offline use as you may not get reception. Bring spare batteries or a recharging bank to keep your devices topped up. 
Extra Food
Hiking is strenuous so make sure you bring enough food to fuel your adventure. We suggest easily digestible, calorically dense foods like trail mix, energy bars, nuts, and bagels with your favorite spread like peanut butter or Nutella.
If it is cold out consider bringing some dehydrated food and a stove to make hot food. If you don't know what stove to bring then check out this list of the best compact stoves.
Extra Water
The combination of altitude and exertion will demand more hydration than you might usually need. To make sure you drink enough, you can add a hydration bladder to your backpack to make it easier to drink on the go.
We suggest a liter of water per hour of hiking. This can mean having to carry a lot of extra weight so consider bringing the tools that will allow you to disinfect water on the trail.
A micro water filter or chlorine dioxide tablets will allow you to process safe drinking water on the go.
Extra Clothing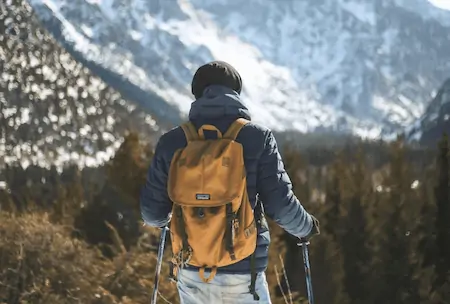 The mountains are moody. You can start a hike in nice weather and very quickly have it change to cold and wet. Bring extra layers of wicking, insulated gear for warmth as well as rain gear.
A pair of light gloves and a beanie hat are smart to carry year-round just in case of cold temperatures. A light puffy jacket is a good option for something to put on when you stop to take a break and retain the heat you created while moving.
It is always smart to bring an extra pair of hiking socks to keep your feet dry and blister-free.
Tools and Repair
This can be as simple as a Swiss Army Knife, spare shoelaces, and some duct tape to handle the little issues that come up.
First Aid Kit
You never expect injuries but being prepared with a fully stocked first aid kit can be the difference between an unpleasant experience and a life-threatening one.
Knowledge should be part of your kit. Make sure you have first aid training before heading off into the mountains.
Fire Making
Even if just for an emergency it is important to have the means of making fire with you. You will need both an ignition source and tinder, easily ignited material to get the fire started.
We suggest carrying waterproof/stormproof matches and a lighter for redundancy. For a tinder source, you can carry commercially prepared material such as Wetfire or make your own cotton pads with Vaseline.
Since the weight is so light, carry multiples in case you aren't successful the first time you try to start a fire. Additionally, if you have a camp stove, in a pinch you can use it to ignite your fire.
Shelter
If you get stuck out overnight you want to have a means of protecting yourself from the elements. An ultra-light tarp or rain poncho combined with some cord will allow you to rig a shelter to protect yourself from wind and rain.
If you use trekking poles, you can use them to prop up the tarp. It is also very easy to make tent pegs from sticks you find along the trail.
Traction Devices
Whether full mountaineering crampons or microspikes, when you get on snow or ice it is recommended to have some type of metal traction device on your feet.
These bits of sharp metal will aid traction and help avoid falls in slippery conditions.
Trekking Poles
While some hikers see trekking poles as just for old people, in the Alps they are a must-have that is used even by ultra runners.
The poles will help with going up and reduce the impact on your knees while going down.
Satellite Communicator
While you are in the heart of Europe with some of the best cellular coverage in the world, once you are over a mountain pass your phone will often fail to get a signal.
Carrying a satellite communicator such as a Garmin Inreach or Spot X will give you reliable communication regardless of cell reception.
For safety and peace of mind, we highly recommend carrying at least one in your group.
Conclusion
If you are a hiker and you're ever in Europe you owe it to yourself to find a way to fit in some hikes in the Alps.
With some of the most scenic and strenuous hikes within a day's travel of most points in Europe, you would be missing out on some of the most spectacular hikes in the world.
But remember the Alps are not to be taken lightly. The combination of steep terrain, altitude, and treacherous conditions make most hikes in the Alps potentially dangerous if you don't have the requisite skills and equipment.