Camping is one of the exciting activities to de-stress your mind and release all the tensions and negativity. But, that doesn't mean you need to go off-grid and leave all your power supplies behind.
We live in a world where it is nearly impossible to spend a day without a smartphone and technical gadgets – be it for calling your loved ones or checking the texts from work. These gadgets must be charged or they will be of no use.
Sure, you can bring along your charger to charge the batteries of your laptop and mobile. But, what if the campsite does not have a suitable electrical outlet? The simple solution is to bring a power bank.
Here we will walk you through some of the best portable power packs for camping. Keep reading.
Image
Product
Details
Price
EDEN 150 AC Power Bank



41,600mAh / 154Wh


Lithium-ion Battery


AC Outlets


USB Ports


Built-in Flashlight


SOS Light Mode


No Airline Restrictions


Light Weight - 1.8kg


1 Year Warranty



View on Mount Black

Jackery Power Station 240



4240Wh


Lithium Battery


110V/200W AC Outlets


Solar Panel Optional


USB Ports



View on Amazon

Rockpals 250-Watt Portable Generator



250-Watt


Lithium Battery


110V AC Outlet


12V Car Outlet


USB Ports


5.5lb Weight


100W Optional Solar Panel



View on Amazon

SUAOKI Power Station



150Wh/100W


Lithium Battery


110V AC Outlet


4 DC Ports


4 USB Ports


LED Flashlights



View on Amazon

Webetop 155Wh Generator



155Wh 42000mAh


Lithium ion Batteries


110V AC Outlets


Optional Solar Panel


3.48lb Weight



View on Amazon

Goal Zero Yeti Power Station



428Wh


Lithium Battery


1200 Watt Surge


16lb Weight



View on Amazon

Jackery HLS 290



200 Watt


110V AC Output


DC 12V Car Port


2 USB Ports


6.6 lbs Weight



View on Amazon
7 Best Portable Power Packs for Camping
#1. EDEN 150 Portable AC Power Bank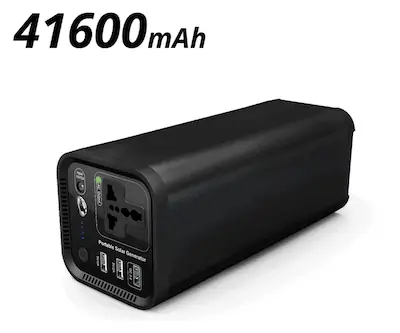 Check Price on Mount Black USA
The EDEN 150 is one of the most versatile, high-performance AC power banks for camping on the market. The unit is equipped with a pure sine wave AC socket, quick-charge USB 3.0, and dual USB 2.0 outputs to make charging/powering your devices super easy.
The EDEN 150 provides a full charge of 41,600mAh/154wh and gives you 120W of a pure sine wave – meaning you can charge/power everything from a smartphone, portable fan, electric shaver, all the way to bigger items like a mini-fridge to a 42" TV! It even has a built-in flashlight and SOS mode.
One of the things we love most about this portable power bank is you can charge it from your home's electricity AND via solar power – making it perfect for your outdoor adventures. Charge the device completely with 5 hours from your home outlets or 7 hours with solar power.
The device is built with two vents and a cooling fan to protect the power bank from overheating – ensuring you have completely safe power and avoid short-circuits.
While reasonably priced, this eco-friendly device is an ideal option for people who spend serious time in the great outdoors. Regardless of where your campsite may be, EDEN 150 power bank will provide outstanding performance.
One of the greatest perks to this power bank is you can bring it on a plane. Typically, airlines do not allow users to carry a power bank that has a capacity of over 164Wh. Lucky for you, the manufacturers designed this product with airline restrictions in mind!
Pros
The unit provides 120W of safe, pure sine wave via AC outlet.
The power bank has 154 WH of capacity and it offers a complete charge of 41,600 mAh.
It can be taken on a plane.
The model comes equipped with advanced hardware features including a cooling fan and two vents.
It can be charged in 5 hours from home electricity or 7 hours using solar energy.
EDEN 150 can power items as big as a 42" TV or a small fridge for 3-5 hours.
Cons
The price is a little higher than the competitors.
Cannot be charged with car plug.
#2. Jackery Portable Power Station Explorer 240
Going camping doesn't mean you are going to be short of power. Bring Jackery Portable Power Station Explorer 240 and enjoy your camping to its fullest.
The device has 240 WH lithium batteries that can be used to charge your laptops, smartphones, mini-cooler, drone, and a broad range of electronics. Jackery Portable Power Station Explorer 240 is compatible with solar panels. The model is portable. It fits your palm perfectly.
The solid and portable handle enables users to carry the power bank anywhere they want. Whether you are going camping or on a long drive with your buddies, bring this power pack along and have the most memorable and stress-free trip.
For smooth and quick charging, we highly recommend you buy Jackery Solar Saga. It takes approx 7 hours to charge from the solar panel (though the exact time could vary depending on the weather and your location). This advanced power bank can charge devices that operate under 200 watt only. The package comes with 1 AC adapter, a user manual, and a car charger cable. It weighs 6.6 pounds.
Pros
It takes only 7 hours to be charged from solar panel
A portable device for outdoor camping
Eco-friendly power bank
Power all types of technical gadgets that operate at 200 watts
Smart display
Portable and solid handle
Offers multiple recharge options
High battery capacity
Cons
It is not TSA approved device. Since its battery capacity is above 164 watts, it doesn't pass the airline restrictions.
It does not support the technical gadgets that operate above 200 watts.
#3. Rockpals 250-Watt Portable Generator
Rockpals 250-Watt Portable Generator is one of the reliable and effective power sources for travel junkies. You could use it indoors and outdoors.
This camping-special power pack comes equipped with a 60Ah battery that can be charged by home electricity or solar panels. The device is capable of delivering 300 watts. It has 4 DC ports, each featuring a 5.5 mm connector.
Rockpals 250-Watt Portable Generator is compatible with all types of technical gadgets as long as they operate below 250 watts. These 5.5 pounds, the high-performance power bank is your ideal option for outdoor activities.
The next time you plan to go camping and fishing, bring this power bank along and recharge multiple devices. The USP of the brand is its MPPT technology (Maximum Power Point Tracker).
The technology speeds up the charging capacity of the power bank. The model recharges 40% faster by solar panels than its counterparts. The charging time can vary by location and temperature. For instance, if it is a bright sunny day, the device will be charged in approx 9 hours from the solar panel.
This portable power pack can recharge a 2500mAh mobile up to 25 times, a laptop 5 times, mini car fridge, CPAP machines, and a wide range of small electronic appliances. It can also be charged by home electricity. Plug it on your wall outlet and expect the lithium battery to be charged in 8 hours.
Pros
Offers Pure Sin Wave Technology
Lightweight and portable
Works as an emergency power supply
Compatible with all small electronics
Easily rechargeable
Cons
It doesn't pass the airline restrictions, which means it won't be allowed on flights
Incompatible with appliances that run on above 250 watts.
#4. SUAOKI Portable Power Station
SUAOKI Portable Power Station is specifically designed for camping, fishing, hiking, and other outdoor activities. It is a perfect example of a portable and compact power bank with a high capacity.
SUAOKI Portable Power Station is one of the most compact power packs. It comes equipped with a battery capacity of 150 WH as well as 10 outlet ports. If you are looking for a lightweight and portable power bank for your camping trip, then this device makes a perfect option for you. It weighs only 2.90 Ibs and has 2 portable handles.
No matter how long you are planning to stay outdoors, you can count on this power station to keep your devices recharged and active 24 hours.
It can be charged from solar panels, wall outlets, and car cigarette socket. Home electricity is the most convenient and fastest charging option. Plug the device on your wall socket and it will be fully recharged in 7-8 hours. It features MPPT technology, which makes it compatible with solar panels.
The device comes equipped with 5 LED lights that indicate the current battery status. SUAOKI Portable Power Station can charge mini-cooler, smartphones, laptops, mini-fans, drones, cameras, and even LED light. As long as the device runs below 100 watts, it is compatible with this power station.
Pros
Chargeable by three different methods
Portable
Compact and lightweight handle
10 ports
MPPT technology
5 LED lights
It can charge multiple devices
It passes the airline restrictions
Cons
It only powers the devices under 100 watts, thus it doesn't support electric kettle, hairdryer, coffee maker, toaster, and other high-power gadgets.
#5. Webetop 155Wh Portable Generator
A perfect solution to emergency power supply requirements, the Webetop power station can be used both indoors and outdoors. You can use it to charge your car electronic devices such as car fridge, car charger, and car vacuum.
The model supports a broad range of electronic appliances that operate below 100 watts. It has a battery capacity of 42000mAH, making it a reliable power source for multiple electronic devices. The product has multiple AC, USM, and DC ports for car-powered gadgets, laptops, and smartphones.
It is chargeable by three methods including solar energy, wall outlet, and car charging. The fastest way to recharge your Webetop 155 WH Portable generator Inverter Power Station is from home electricity. It is charged in 7-8 hours. Make sure the company doesn't sell solar panels with this model. You will have to buy it separately.
The power station weighs only 3.48 Ibs and supports a host of electronic appliances. Despite being a lightweight and compact model, Webetop 155 WH Portable power station has a high battery capacity.
You can pack it in your travel backpack or carry it in your hands. The handle is quite portable and easy to carry around. You can connect multiple devices simultaneously. You can also carry the solar panel (if you are planning a week-long stay).
Pros
Easy to use
Portable and lightweight
An ideal option for outdoor activities
High battery capacity
Three different chargeable methods
Offers protection from overheating, short-circuit, low-voltage, and overcharging
Comes with a wall adapter, a car charger, and a cigarette light adapter
TSA-approved product
Cons
Incompatible with devices above 100 watts capacity
#6. Goal Zero Yeti Power Station
This power station by Goal Zero is the power source you need for camping and outdoor activities. No matter how far you are from home, rest assured that this lightweight, high-performance power bank will power all your electronic devices.
Goal Zero Yeti Power Station is a portable, compact, and high capacity power pack. It gives you the ultimate mobile or laptop charging experience. It also acts as an alternative to inverter generators by charging small home appliances.
The pure sine wave technology guarantees a quality charging experience for laptops, mobiles, cameras, LED lights, and other small electronic gadgets. It has two 12V ports that can recharge 7 gadgets simultaneously.
There is a battery-level indicator that shows how long the device can operate. Goal Zero Yeti Power Station comes with a lithium-powered battery that is replaceable. It is an eco-friendly model. It doesn't need gasoline or fumes for charging. You can charge it from a solar panel or home electricity.
The best part is you could use the power station while charging it from the solar panel. It takes approx 7 hours to be charged from home electricity and 4 hours from solar energy. It isn't a TSA approved product.
Pros
It offers 428 WH battery capacity that can recharge around 7 electronic devices at once.
Pure sine wave inverter
Eco-friendly power station
It can be charged from the solar panel and home electricity
Compatible with smartphones, laptops, cameras, and small electronic appliances
You can charge this power station while using it.
Cons
It is quite heavy
It does not pass airline restrictions
#7. Jackery HLS 290 Portable Power Station
Jackery has launched an eco-friendly, portable, and high-capacity power station for travel junkies and people who are always on the go. It uses Pure Sine Wave AC technology.
Jackery HLS 290 Portable Power Station is compatible with all your car-powered tools as well as small home appliances including mini-cooler, mini-fan, mini-refrigerator, tablets, smartphones, laptops, and more. You can recharge this power bank using Jackery Solar Saga.
Jackery HLS 290 Portable Power Station takes 7 hours to charge itself from the AC wall outlet and carport. You could also charge it under the sun with any solar panel in 10 hours. No need to carry a heavy power generator to the campsite. Purchase this portable and ultra-light power station and charge multiple devices without having to bear annoying generator noise.
The power bank comes with a portable and solid handle. Make sure the power station is compatible with the devices that operate under 200 watts. This 6.6 Ibs allows you to charge multiple devices at once.
You can also plug the power bank into the solar panel to charge it while using it to charge your smartphones and other electronic appliances. Like other portable power stations by Jackery, this model features a compact design and a clear display for battery status.
It doesn't work on micro-wave over, heater, toaster, electric drill, induction cooker, rice cooker, hairdryer, and other devices that consume more than 200 watts.
Pros
Lightweight and compact
Premium battery
Compatible with multiple devices
Eco-friendly product
It can be charged with carport, solar panel, and AC wall outlet
Cons
It doesn't pass airline restrictions
Features to Look for in a Portable Power Station
Gone are the days when people had no other option than to leave their smartphones, camera, and laptops at home when going camping. Not because they wanted to spend some days away from the city's hustle and bustle, but campsites usually didn't have power outlets. You may enjoy the nature with a kerosene lantern but, without a power source, the smartphones were as good as dead after 24-48 hours.
But, that time is long gone! With smart, high-capacity, and portable power stations, you will not go off-grid. Some power banks are so portable that they can fit your pants or leggings pocket or a small case. The best part is you don't need to tolerate the inconvenient hum of the generator.
These compact and battery-powered devices work as a power source for multiple small electronic appliances. If your smartphone, laptop, camera, lights, and other home appliances run out of battery at the campsite, connect them to a fully charged power bank.
Basically, power banks are oversized batteries with enough capacity to charge quite a few devices at once. That being said, it makes sense for regular travelers to invest in a quality and efficient power bank. These portable power sources help you enjoy your vacation while staying connected to the social world.
So, here we have listed some important features that you must take into consideration when choosing the right power station for camping.
Let's get started.
Power banks are available in different sizes. Contrary to the popular belief, the size and weight of the power bank you purchase have nothing to do with the battery capacity it holds. Even a 3.5Ibs power station can have up to 42,000 mAh. The smaller and lighter the power station, the easier it is to be carried.
Mostly, people use power stations for outdoor activities i.e. when they go camping, sightseeing, and hiking. You must look for a power station that could fit in your backpack or at least it feels convenient and light in your hand. A portable power bank is convenient for outdoor use.
Power stations can charge a broad range of small home appliances and technical gadgets including but not limited to smartphones, tablets, laptops, cameras, mini-cooler, mini-fan, and other such small appliances. But, that's only possible when you buy a power station that features ports for multiple devices.
The more ports your power bank features, the more devices you can connect to it at once. It is especially important when you are planning to use the power station for outdoors with your friends.
Surprisingly, the number of ports a power bank features can depend on its size. So, if you are purchasing a smaller and compact model, remember that it may not come with many ports.
The amount of power you need from the power station depends on the appliance you need to recharge. If it is a high-power electric appliance such as a hairdryer or grinder, then you may need to invest in a power bank that offers high power.
Before shopping for a power station, list all the appliances you are going to need to power at the campsite along with the watts needed to operate them. This way you will get to know the total watts you need from the power source. The higher the power it generates, the more appliances it can charge.
Remember that a power bank that generates more than 164 watts will not be a TSA-approved model. This means you won't be able to carry it on the flight.
Imagine being ready for the camping trip only to realize that the power bank is taking forever to charge fully. If you need a power bank for long flights and trips to places that do not support wall outlets and other power sources, then there is no way you can leave without charging your power bank fully. Bigger and portable power stations take plenty of time to refuel.
In fact, the bigger ones can take up to 15 hours to charge from home electricity. So, it is important to look for a device that can charge itself quickly. 7-8 hours is a normal duration for a high-capacity power bank to charge.
Power banks need to be charged before they are used. If you are going camping, you have to ensure the power station is charged fully so that it can power all your small home appliances. There is a possibility the power bank will run out of battery if you charge multiple devices every day.
Since it might not be possible to have electrical outlets at the campsite, you will have to look for other ways to charge the power bank.
There are mainly three ways to charge a power bank:
Wall outlet
Car charger
Solar panel
Each method is different and may take a few to several hours to fully charge the power station. If you are going camping, then solar energy is the best way to charge your device. Most power banks do not come with solar panels.
You will have to buy them separately. The total time your power bank takes to charge from solar energy depends on the weather. If there is bright sunlight, it will be charged in 10-15 hours.
Make sure you fully charge the power bank before leaving home. Plug it into the wall outlet and let it charge for 7-8 hours. Keep checking the battery display every few hours to know the battery status. Invest in a power station that features MPPT technology. These power stations can be charged from solar energy. They are efficient and eco-friendly.
You don't want to go through the hassle of checking and comparing the features of different power stations only to discover that the one you like the most is incredibly expensive. Power banks come in different price ranges. So, plan your budget, and look for the options that are available at competitive rates.
Safety Precautions
Usually, power banks are safe. However, overheating and short-circuit can make them catch fire. These lithium-powered oversized batteries must be handled carefully, especially if you are using it outdoors. Before using, check all the manufacturer's instructions on how to charge the device and which cables must be used to plug it into the wall outlet or carport.
You must also know how long the power station takes to charge fully. We highly recommend you look for the models that offer protection from short circuit, overheating, overcharging, temperature, high-voltage, and so on. The power bank comes with a list of safety instructions and warnings. So, take a look at the warning and instructions before using it.
Let's learn more about safety and dos and don'ts:
Never leave your power bank plugged into the electrical outlet for longer than required hours. It can result in overheating. If the power station gets too hot while charging electronic appliances, then disconnect it from the plugged device immediately.
A short circuit can cause damage to your power bank. Never bring metal coins, keys, and other metal objects near the power bank, especially when it is charging.
Never leave your power bank in high temperatures and moist areas.
Most power stations come with a portable handle that fits your palm seamlessly. But, you need to be extra careful when carrying a power bank. If it slips your hand and hits a hard object, the internal components of the device will be damaged. This will also increase the risk of the power bank catching fire when you use it. If you notice an unusual odor, leakage, and color changes, then take it to the service center.
Never allow your kids to use power station.
FAQs
How Should you Charge a Power Bank?
You will need to plug the USB type-A cable to your home wall outlet or carport to charge your power bank. You can also charge a power station from solar energy. However, you will need to buy a solar panel separately.
How Long Does Power Bank Take to Charge Fully?
In general, power banks with high capacity take longer than any other electronic appliance to charge fully. How long your power station charges depend on the adapter. It also depends on how you charge the power bank. Usually, solar energy takes 10-15 hours to charge power banks. Your wall socket, on the other hand, takes approx 7-8 hours only.
Which Power Station is the Best for Me?
Which type of power bank you need depends on what you want it to power. For instance, you may want to purchase a 40,000 mAh power station if you are planning to use it outdoors. However, if you only need to charge the smartphone with your power bank, then a 2000 mAh capacity power bank will suffice.
What Can a Power Bank Charge?
A power bank is mainly purchased for smartphones. However, high-capacity and oversized power stations can be used to charge a wide range of electronic home appliances such as mini-cooler, mini-fridge, car vacuums, mini-fan, laptops, tablets, mobiles, camera, and so on.
Some power banks are designed to charge mobiles only. These devices have a low capacity i.e. around 2000mAh to 5000mAh. The power banks designed for outdoor use come with a higher capacity i.e. up to 50,000mAh.
Can I Charge and Use a Power bank Simultaneously?
Yes, you can charge power bank from the wall socket or solar panel while charging multiple electronic devices. However, make sure it doesn't overcharge or overheat. Overcharging can cause damage to the internal components of the model.
Final Words
Power banks are the portable and convenient chargers for a wide range of electronic appliances. A perfect option for travel junkies, this power source can be charged from solar energy and home electricity. They are lightweight, lithium-powered, high-performance chargers that are mainly used at camping sites.