Are you going camping and you are worried about the source of light? Are you thinking of kerosene lanterns and you are not sure about them?
When camping, lighting is of great importance. In most cases, there is no electricity at the campsite. As a result, other sources of light are essential.
One of the best options that people use is a kerosene lantern. You may not have used it before, and you have so many questions about this source of light. There are many things to know about kerosene lanterns.
A kerosene lantern is good enough for camping, it doesn't matter if it's for over a month. You just need to carry sufficient kerosene oil. We discussed details about why it's enough in this article.
What is a Kerosene Lantern?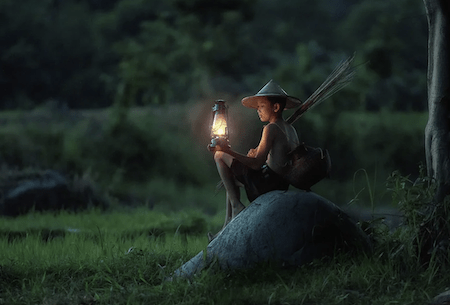 A kerosene lantern is a light device that is designed to use kerosene as fuel for lighting. A kerosene lantern is designed with a reservoir that carries the fuel to be used for lighting. It has a wick that produces light when ignited.
Such kerosene lanterns also come with a glass globe or chimney around them. The work of the glass globe is to ensure the proper distribution of light all around the room.
These types of lanterns have the advantages that make them stand out among other sources of light.
Kerosene lantern has been used for a very long period. They were used in the ancient world when there was no electricity, and they have continued to be used up to date.
How Does a Kerosene Lantern Work?
A kerosene lantern is very simple to use the light device. There is nothing complicated about using a kerosene lantern as long as you have enough kerosene and a matchbox.
All you have to do is make sure that there is enough kerosene on the reservoir to be sucked by the wick.
You also have to make sure that the wick you are using is of the right length to reach the kerosene. Whenever you want to light up the lantern, remove the glass globe around the wick, use a matchbox to light up the wick, and return the glass globe.
When using a kerosene lantern, you have to make sure that there you adjust the wick effectively. It should not be too long to produce too much heat that might break the glass or fill it with soot within a short time.
Too much will prevent visibility on the glass, which also inhabits its ability to distribute light to the surrounding.
Also, make sure that the wick is not too low that it will not produce enough lighting for you.
Advantages of Kerosene Lantern Compared to Other Sources of Light
Whenever you are going camping, you have to make sure that you use things that will offer you an advantage over the rest in that situation. Camping is a temporary activity where there is no time for perfection or permanent solutions.
There are various types of lanterns, such as gas-powered and electric lanterns.
Looking at the differences between these lanterns and kerosene lanterns will enable you to understand whether a kerosene lantern is a right choice or not.
Kerosene Lantern is Lightweight
When compared with other types of lanterns then kerosene lanterns are the lightest in weight. Whenever you are going camping, you most certainly have a lot of things packed, and you have to move with them from one location to the other.
As a result, you need to carry the lightest materials as much as possible. As a result, that makes the kerosene lantern ideal for such an activity. They are made with light metal materials and have very few parts making them lightweight.
No-Risk of Spilling Fuel as Compared to Gas-Powered Lanterns
Whenever you differentiate between a kerosene lantern and a gas-powered lantern, you will realize that a gas-powered lamp has more chances of fuel spilling more than those using kerosene.
Here is why.
Kerosene lanterns do not require so much fuel as compared to gas-powered lamps which use propane and other types of gas.
At the same time, kerosene lanterns come with high quality and sealed reservoirs that you do not have to touch unless refilling.
Safer When Compared to Other Types of Lanterns
Safety is very crucial, especially when camping. When on a campsite and you are most likely using a tent, you want something that is not much of a risk to your life.
Gas-powered lanterns use dangerous fuels such as propane. They also produce too much heat.
However, for the kerosene lanterns, the amount of heat produced is minimal.
There is also a sealed area, and you are not required to pressurize like in gas-powered lamps which can be difficult.
Produces More Distribution of Light
Kerosene lanterns are better sources of light in a campsite when compared to other sources such as blinding flashlights and headlamps. When you are camping, you need enough light to illuminate the surrounding.
As a result, flashlights and headlamps become challenging to use as you have to hold them all the time.
However, for a kerosene lantern, you do not have to keep on holding it. It is made with a glass globe that enables 3600 of light circulation.
Is It Enough for Camping?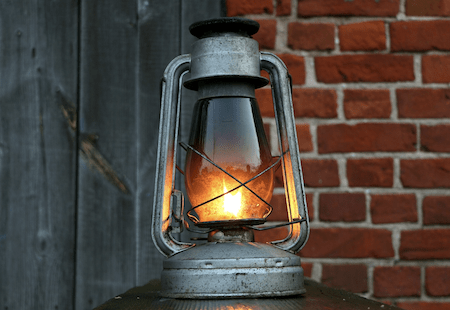 Here is the deal.
If you are looking for a simple way of getting enough light at your campsite, then a kerosene lantern is enough for you. If you want something comfortable to carry whenever you are packing, then a kerosene lantern will work better for you.
Although other sources of light may be better than in lighting than a kerosene lantern, there are other factors to consider. You may have a source of light so blight like a headlamp but you will have to hold it all the time you need enough light.
Another factor to consider is cost. When compared to electric and gas-powered lanterns, kerosene lanterns are way cheaper. As a result, you will get better value for your money.
Kerosene lantern has very low risks of damage, which means that you can use them for an extended period if you camp a lot. They are also very portable due to their lightweight.