Your choice of hiking boots will determine your experience on the real trail. Hiking is a fun-filled experience if you prepare well. It starts with a step into the woods. The smooth transition of your steps entirely depends on how comfortable your boots are.
Hiking boots are designed to withstand the harsh terrain. Functional boots are also designed to give you maximum comfort. They allow you to stretch your sinews to the max.
Apart from your physical resilience, the comfort of your boots is vital. You must comfortably fit before you walk out of your favorite footwear store. They must allow you to scale the hills for hours and move down the terrains without a hitch.
They should provide you the ultimate comfort. How they fit is a critical part of your hiking mission. This piece seeks to share essential tips on how you can save yourself foot pain.
A Quick Peek
Hiking boots come in many types and designs, such as backpacking, light hiking, mountaineering, and more. It is your goal for hiking that should inform your choice of boots.
Quality hiking boots will fit your feet in such a way that they will hold your feet. Feel the hold and make sure that there are no tighter points than others. If you feel some discomfort, even distantly, keep fitting and find suitable boots. There should not be any hot spot or constriction, remove the boot.
Great boots offer appropriate arch support for the feet. Comfort is critical if you suffer plantar fasciitis. If the arch support is insufficient, request your boot supply store attendant to add more arch support.
Checking the flex level of the boots you intend to use on your hiking mission. They should also be breathable and come with a carefully patterned outsole tread. The weight should be light enough to allow you to move up against gravity with ease.
Types of Hiking Boots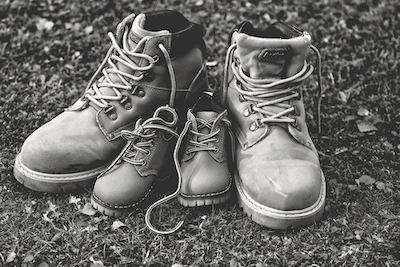 Although choosing hiking boots appears easy, in theory, it is, in reality, complicated than what meets the eye.
Generally, hiking boots fall into three primary types. They are suited for various intensity levels.
As mentioned earlier, it is vital to match your hiking goals with your footwear if you are to enjoy your hiking retreat.
Appropriate and comfortable hiking boots will also increase the distance you will cover per unit time. The good thing is you can get the best hiking boots under $100.
Light Hiking Shoes
This model is cut low and comes with a flexible midsole. This boot is best suited for hiking during the day when the sun is up and or temperatures are relatively higher. They allow you to run on the trail and going on an extreme backpacking mission.
Backpacking Boots
This is a high cut variety that supports your ankles. They come with relatively stiffer midsole accessories. They guard against injury to the bottom of your feet when moving on rough terrain. The boots are suitable for hikers with heavy backpacks for long distances. It can be stored in the shoe compartment of the backpack.
Mountaineering Boots
These are the most durable boots. They come with greater weight than the light hiking boots and backpacking designs. They are often fitted with a removable inner boot. Most mountaineering boots are made of leather, but they could also be plastic or other synthetic.
These boots are suited best for glacier crossing, alpine climbing, and high altitude. Most of these boots come with soles that are stiff and meant to be used with crampons. Crampons include spikes that help you to climb on ice with ease.
Care should be taken not to deploy the use of mountaineering boots on short day hikes. Mountaineering boots have an attractive rugged design. They seem more convincing for use in the trenches.
Using them for short trips with relatively smooth terrain will only slow you down and make you uncomfortable. However, if you seek to explore the icy mountains and the snow peaks, the boots are the best. Do not try these types of hiking using light hiking boots.
It would pose the risk of slipping and injuring yourself, even severely. People have been reported to sustain severe injuries and also died on mountain hikes. Some of the accidents have been attributed to using the wrong gear.
What Should You Look for When Choosing a Hiking Boot?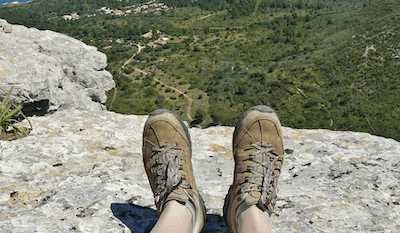 When choosing your hiking footwear, make sure that they fit appropriately. Your foot should be firm and be inside the boot you have chosen.
Make sure that your index finger can comfortably fit into the heel and the shoe back. If it does not happen that way, there is an excellent chance that you will be uncomfortable.
Your foot should feel snug but not tightly held at the wider end. Make sure that your toes do not feel any pinch or pain when you insert them and move a step or two.
Your ankle bone should be just as easy and free. Here are some simple but commonly ignored tips to help you choose the best hiking boot for your trip out.
A Must: Don't forget to check out our list of the best hiking boots under $50.
How Should Hiking Boots Fit?
Exert the weight of the front part of your foot into the boot. You should comfortably fit your index finger between the back part of the boot and the heel. If it does not fit easily, your feet will suffer bruises while descending on the landscape.
The boot should feel snug width-wise. It should not be tight at the full part either, and the heel should not pinch. Your ankle bones should not feel uncomfortable at all. When choosing, try, and remain simple.
A great fitting does not mean the boot must come with many accessories. Once you move your foot to the front part of the boot, you should not feet a tight grip behind, at the heel. There should be sufficient space there. It should not be for the thickness of your index finger but its width
Time of the Day
Ordinarily, the feet swell as the day wears on. When you are already on the trail, they will do the same. Therefore, it is advisable to shop for your hiking boot and the sake of general readers, any other footwear, later in the day: not in the morning.
Brick and Mortar
Some items are best bought from the brick and mortar store, shoes included. Indeed, for any best feet, the process is practical and physical. It, therefore, calls for one's physical fitting to get the feel.
If you visit a customer-sensitive retail shop, they provide an incline ramp to offer you what your boot will feel like on the actual trail.
Take Time
If you are looking for functional boots, remember quality comes with a cost. Great boots will offset you a few more dollars than relatively cheaper ones. Tip: only shop for hiking boots when you have sufficient time and money in your pocket.
Online Shopping
As highlighted earlier, online shopping is excellent for just that: shopping. When it comes to buying some items such as hiking boots, it is best to visit your store and fit the boot physically. Online shopping helps you get to grips with what options are available out there.
Nevertheless, if you must buy from online sources, you should only buy when you have used the same product before. Therefore, repeat purchasing of boots online makes some sense.
Try Them On First at Home
Take your time and walk around the house with the boots on to confirm that they are consistent with what you felt at the retail outlet. Walking around the house will help you verify your choice before using them outside and outlive the possibility of returning them for another pair.
Replace Insoles From the Factory
Note that the generic insoles inserted in your boots aren't customized for your purpose for hiking. Therefore, it will help to invest in arch-supporting insoles. There are special inserts that can help you stay comfortable all day long while on your hike.
Flexible Footwear
The flex of the boots you choose should be suitable for the terrain you will hike. For instance, if you are going on an easy short trip on smooth trails, you can go with a flexible boot or shoe.
The more rugged the terrain gets, the rougher your boot should be. If you try to hike over jagged rocks and landscape with running shoes will only cause you injuries and pain. Another aspect to consider when choosing your hiking boots is your experience and skill. Distance is also a factor that you cannot overlook.
You need a boot that you can use for long distances without feeling uncomfortable. You must remember that hiking is no child's play; boots alone will not hike the hillside trails and the rocks. You will have to muster some stamina.
Materials That Make the Best Hiking Shoes
We thought it would also add value to keep you posted on some of the materials that work best. Your shoe needs some free air circulation or at least breathability. You should seek shoes and boots with no waterproof layers of material.
If anything, your feet will wet from the inside because they sweat as you use them. The sweat needs to escape from the shoe. If there are waterproof membranes, the sweat accumulates in the shoe and makes you more uncomfortable.
Therefore, your hiking boot must be made with material that allows air and moisture to flow in and out. Gore-Tex should only be used in extreme weather conditions.
Check Out the Right Outsoles
Your outsole should be treaded deep enough to guard against avoidable slips and slides on the terrain. Traction is an essential factor while you are on the trail. If you are going on a fast one day trip, you may not need heavy hiking boots.
However, all hiking shoes must have clear cut treads that can provide sufficient traction. They should do so even for that brief moment or patch of challenging stretch on your hike.
Full-Grain leather
Full-grain leather is the perfect option for backpacking boots. Leather is durable and gives you the resilience and the resistance you need against abrasion out on the trail.
These boots are also highly resistant to water. As mentioned, they are ideal for the rugged terrain, carrying heavy backpacks, and long trips.
The boots may not be as breathable as those made of other materials or even light. However, they are the best for the tough, rough hikes. There is always a compromise between performance and other qualities of any machine or device.
Split Grain Leather
Split Grain Leather is a blend of leather and nylon materials. This combination is known to provide the best breathability and offers the lightest hiking boots design. As mentioned earlier, there is always a compromise on power versus cost convenience and comfort.
In this case, the high resistance of the full-grain leather has been traded for the comfort of the boot and its lightweight. Thus, it relates to convenience in moving on the trail. A good number of the split leather grain boots also come with waterproof liners.
As we mentioned, again, the split-grain leather boots are cheaper than the full-grain variety.
Nubuck Leather
This type of leather is full-grain leather that has been processed to resemble suede. It is a durable type that is also water-resistant and may impress you if you are a suede fan.
It is strong against abrasion and durable too. Like the full-grain leather, it calls for sufficient time to break-in before a long hike.
The Synthetic Varieties
These are the ones made of polyester, synthetic leather, and nylon. These are recent developments for hiking boots. They break in faster, dry a lot quicker, and cost less. However, they are less durable.
They may be torn before you expect it. They are not strong enough to withstand the harsh, rough, and rugged trail conditions. However, boots made with these materials are light and can be used on light hiking missions. They take a much shorter break-in time.
Vegan
Vegan-friendly boots are crafted out of ingredients from animals and other byproducts.
Insulation
Some mountaineering boots come with synthetic insulation to provide warmth on the trail, such as on snow surfaces and glaciers.
The Midsoles of Hiking Boots
The midsole of a boot offers the users the required cushioning from the impact on the ground. It is the midsole that provides the stiffness needed for strength while on rugged terrain.
While they may sound scary, they are the best option for hikes on rocky surfaces for long distances and for a long time. They also provide excellent traction, comfort, and stability on uneven terrain. One advantage with boots made with midsoles like these is that they will prevent your feet from wearing out.
They ensure that they don't wrap around everything you step on, such as roots, rocks, or depressions on surfaces. EVA is one of the most common midsole materials used to make boots.
The Shanks
These are thick boot inserts measuring between 3 and 5 mm. They are placed between the midsole and the outsole. They are meant to increase the thickness that bears the load.
While some of the shanks run the entire length of the boot, others are run to the middle only.
The Plates
These are semi-flexible inserts. They are placed between the midsole part of the boot and the outsole. They are also put below the shank if the shank is part of the boot. It is meant to protect you from hurt by roots and rocks on uneven terrain.
The Outsoles of Hiking Boots
Rubber is the common denominator on all the hiking boots that exist. Carbon is often added to backpacking boots and mountaineering boots to enhance their hard quality. The hardness ensures that the shoes resist abrasion and thus last longer.
Heel Brakes
Heel Brakes is the defined heel zone as distinguished from the forefoot and the arch. It helps guard against slips and slides in a sharp descent.
Lug Pattern
The lugs help the boot to gain traction. Backpacking bots will tend to have deeper and thicker lugs. Their function is to improve the grip on the ground and other surfaces you step on. The spread-out lugs offer better traction. They also shed off the mud with ease.
Weight of the Boots
This aspect of hiking preparation is more to do with the boots in the field than how they should fit. If you choose light footwear, you will use relatively lesser effort to walk, run, or move on the trail.
There is an excellent shift lately towards lighter shoes for hiking. All this is for a good reason. A small weight on your feet is more massive than the same weight on your back. If you look around, long-distance hikers rarely use heavy boots.
Parting Shot
The secret behind the best fit for hiking boots lies in trying them on. The type of boot you choose should be driven by the purpose of your hiking mission. You must prepare well before you go on a hike.
There are compromises that have to be made in whatever choice of boot you make. Generally, there are many factors that must be born in mind before settling for a boot. The best boots also tend to cost more.