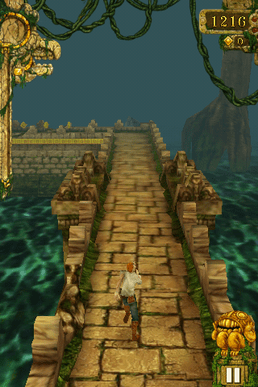 If you've been paying any attention to the evolution of virtual reality from a fitness perspective, you know that there are likely a lot of new experiences just around the corner. Most notably, many different people and companies have already hooked VR up to exercise bikes so as to simulate cycling experiences all over the world.
There are also some brand new exercise machines being created that can suspend the body and allow people to move in ways that work certain muscle groups while maneuvering through video games. These kinds of experiences aren't particularly accessible right now, but could soon be put into gym chains or even made available for in-home use.
The next logical step is VR-infused treadmills, which take a little bit more work but figure to be wildly popular. They take work because a person with a headset strapped on can't run in a straight line, so there has to be a harnessing mechanism of some kind built into the treadmill. They'll be popular, however, because people often avoid running due to the boredom of it, and VR could be more effective than any playlist or training program in combatting that boredom.
The only question that follows is what exactly VR running experiences will look like. In some cases, they'll be like what we're already seeing in cycling – simply making it appear as if you're running in some pretty or interesting location you're not actually in. However, there may also be an existing template for a more interesting form of VR running: Zombies, Run!
This audio-based game from Six to Start basically makes users feel as if they're being chased by zombies, such that they have to keep running or risk capture. There's more to it, such as gathering resources and playing through a few game-like features that are accessible even when you aren't running, but the basic idea is that you're placed in a world in which you run for a purpose rather than just to exercise. In short, it uses a zombie survival story as a motivator for exercise.
A more sophisticated version of this game in VR seems somewhat inevitable at some point. But these are a few additional kinds of games we might expect to see built up as VR exercise, given the current gaming landscape. Mind you, there's an aspect of silliness to all of this – but in all likelihood, workout games like these are coming.
You Are A Bloon
If you've ever spent much time with online or mobile games, you've probably noticed the Bloons franchise. A comical series of games in which monkeys concoct different means of popping endless streams of balloons, it's been twisted into various iterations and formats.
Usually, you control the monkeys and your job is to stop the tide of "bloons." But we could easily imagine a VR, fitness version of the game in which you are effectively taking the place of a bloon, and must speed up to get around or through the various obstacles that the monkeys put in your way.
Temple Run VR
These are all just ideas, but if we were to bet on one to become a VR exercise game, this would be the pick. Temple Run has been popular for a long time now as a game that challenges you to run quickly, outstrip monsters, and leap over or otherwise dodge obstacles.
Frankly, the whole thing sounds dizzying in VR, and the quick turns might even be dangerous in a simulated environment. That said, the brand is too popular and too closely related to running for there not to be some kind of spinoff. A version of the game that exists entirely in a straight line, yet still with obstacles that can be avoided by leaping, slowing down, speeding up, or even just pressing buttons as you jog, could work beautifully.
Escape The Gods
This is less of a direct adaptation and more of something that might seem inevitable if fitness-related VR games catch on. In a strange way, ancient gods have become extremely trendy in gaming. Age Of The Gods, the original installment in what became a prolific series of online slot games, may have started the whole thing off. It turns arcade slot reels into collections of images reflecting Olympian gods and heroes.
However, we've since seen a mobile fighting game (Gods Of Rome) as well as some new console games (God Of War and a forthcoming Assassin's Creed game) involving the same mythical gods. Given their increasingly prominent place in gaming, a VR experience in which you have to run away from them and their various powers seems like a natural next step.
Gotta Race 'Em All
This is probably a close second to Temple Run as far as the likeliest games to be turned into VR exercise experiences go. It may seem as if the novelty of Pokémon GO has worn off, but the numbers say otherwise. As of the close of the summer of 2018, the game had nearly doubled in popularity, indicating that people are still out there using their phones to "catch" Pokémon in the real world.
The creative minds behind Pokémon have made it clear they don't mind innovating, however, which means we could certainly see new versions of the game in VR. So what if there were one that challenged you to race Pokémon? It's a fairly specific idea, but ultimately just one example of the different twists that could turn this game into a fun, and potentially viral fitness experience.