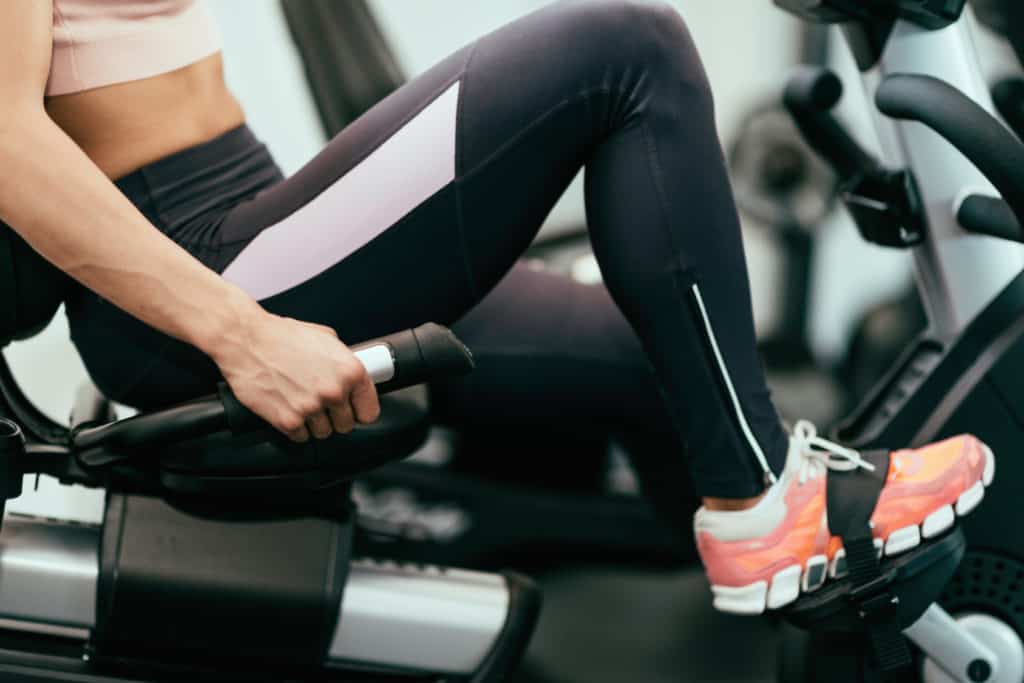 The recumbent bike can provide a more comfortable workout compared to other types of cardio machines including the stationary bike or treadmill. This is because you can sit back against the high, cushioned backrest, fully extend the legs and sit in a manner that doesn't put stress on the joints.  Some gym enthusiasts don't think they can burn enough calories using a recumbent bike, but it is possible when using interval training. The recumbent may not be the right choice for everyone, but there are a number of ways to use it that can effectively allow you to shed pounds and burn fat like never before. The key to success is consistency.
Because riding a recumbent bike is so comfortable and it allows you to pedal without the same aches and pains that you'd experience using a stationary bike, most people incorrectly think that you can't get a solid workout using it.
Riding the recumbent bike for one hour can allow you to easily burn eight hundred to a thousand calories if you push yourself and use the highest resistance level, combined with interval training.  The exact amount of calories burned will depend on your weight, age, and gender.
How to Burn More Calories on Your Recumbent Bike
Riding a recumbent bike is a great exercise for people of various fitness levels and it's also a good choice for people with arthritis, disabilities or the elderly. Riding a standard stationary bike can cause lower back, leg, joint and wrist pain, because of the poor positioning, which requires the rider to lean over the handlebars. With a recumbent bike, the user can ride with less chance of injury.  This type of exercise bike works for all the major muscle groups and largely engages the hips while stimulating several other areas, making it very beneficial for people suffering from arthritis.
The bike can provide some impressive results because it actively mimics the motions of several strenuous activities such as hiking and climbing, working the calves, glutes, ab, and thighs. Using a recumbent bike consistently will not only aid in the weight loss process but it can also prevent several health issues such as heart attack, stroke, diabetes, heart disease, and hypertension. Recumbent bikes also provide strength training which works to improve both lung capacity and cardiovascular health.
Using a recumbent bike is also an effective way to maintain weight because the bike's comfortable riding experience encourages individuals to work out more frequently and consistently. The display consoles also make it easy to track your progress and monitor calories burned, distance traveled and heart rate level. You can also keep track of the length of your workout.  Some models feature a USB port, phone charger, and iPod docking station, encouraging the rider to listen to music and get motivated.
Use of a recumbent bike is often recommended by physicians or physical therapists for patients who require non-weight bearing workouts. Elderly patients who need to improve muscle mass and individuals in need of rehabbing certain muscle groups can get back in shape safely without the fear of further injury or muscle strain.
Interval Training with a Recumbent Bike: The Classic Fat Burning Challenge
More than ninety percent of people who work out do so in order to lose weight and burn fat. Most women ride recumbent bikes as a way to lose localized fat in the glutes and hips. Because the recumbent bike works only the lower body, the rider can get a great glute workout by upping the bike's resistance, creating powerful pedal strokes and burning a ton of fat in just thirty to sixty minutes.
Recumbent bikes can give you a great interval workout. During an interval training session, you will alternate between intense bouts of activity and low-impact activity. As an example, you can switch from sprinting to jogging or jogging to walking. You can model your recumbent bike ride after an interval workout.
Turn up the resistance for a period of four to five minutes and switch to a lower resistance for two minutes. The time you set per interval will vary depending on your current fitness level. If you're new to working out, shoot for three minutes of intense riding, then switch to one minute of easy pedaling.  This helps to safely build endurance.
As you progress you'll be able to extend the length of intense riding from five to ten minutes, with a two to three minute recovery time. Start off slow. Progressing too quickly can not only be discouraging as you realize how out of shape you are, but it can also cause injury. Increase the length of intensity by one to two minutes every three workouts.
Begin your recumbent bike training with five to ten minutes of warming up on the bike, with resistance set at the lowest level. Increase the resistance and pedal speed slowly. In the beginning, you should ride the recumbent bike for twenty to thirty minutes, with the ultimate goal of riding for one hour at a high resistance.
The truth is, you can burn the same amount of calories on a recumbent bike that you can on a treadmill. The treadmill will use more muscle groups, burning calories at a higher rate, but the recumbent bike doesn't recruit the body's postural muscles so you don't get a good core workout.
A workout that uses a lot of muscles will be more effective at burning calories, which is why you need to make your recumbent riding sessions more effective by increasing resistance. When riding the recumbent, get creative when it comes to setting workout parameters. Choose a more challenging setting that makes you sweat and gets the blood flowing. Interval training on a recumbent bike will work to maximize the impact of your workout sessions.
Why the Recumbent Bike is Perfect for Rehabbing Muscles
The health benefits from using a recumbent make it a great choice for people who need to rehab their muscles. The design of these bikes takes a large amount of strain off the joints, knees and back, which is why they're the ideal training machines for people who suffer from core or back problems. They're also a good choice for people who need to rehab their foot, legs or knees. When choosing an exercise machine, comfort should always be a factor. The less stress your body experiences during a workout the more likely you'll be to continue to work out consistently and improve muscle strength safely.