It has always been a challenging task for hikers to decide their next hiking trails as not every spot comes with the same level of thrilling experience.
People usually make their bucket list for hiking to enjoy places full of unimaginable sights, adventurous terrains, and historical importance.
Are you also urging for having such breathtaking experiences on your next hiking trip?
Well, to make your task a lot easier, we have come up with this article which includes the best 7 scenic hiking trails around the world for your bucket list.
7 Scenic Hiking Trails around the World
Our world is beautiful and each place has its own unique charm to attract tourists and hikers.
So, it's definitely a hard task to select the 7 best scenic hiking spots from enormous available options around the world.
But, we tried to include trails that are historically rich, extremely beautiful, and challenging enough for hiking.
#1. Inca Trail, Peru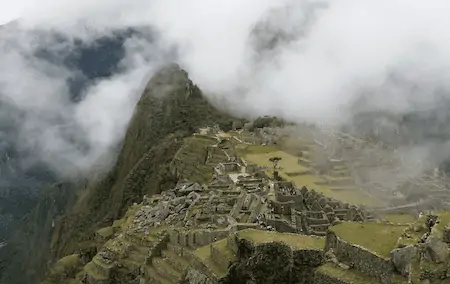 The very first hiking trail we would like to introduce to you is the Inca trail of Peru.
Get ready to experience a great number of ascending and descending pathways along with the option to see mountains, historical ruins, and rivers as well.
On top of that, the whole hiking journey will finally lead you to the great iconic Machu Picchu.
Inca trail is basically known as one of the most famous hiking spots in the world which is 26 miles long and it might take 4-5 days to complete the whole journey.
This ancient trail is an ideal hiking spot for those who love high altitude trekking along with the flavor of mysticism that comes with historical messages.
If you decide to hike on the Inca trail, the best time of the year would be May to September.
The best part of this hike is, you get to enjoy the scenic beauties of the Inca trail which is almost 7000 Ft above sea level and it even ends with the beginning of one of the new 7 wonders of the world, Machu Picchu.
Read Also: Best Budget Hiking Backpack Review
#2. Mount Kilimanjaro, Tanzania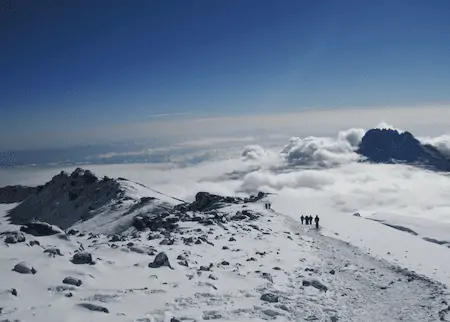 Our next trail suggestion is for those who love hiking on mountain tops. Mount Kilimanjaro is Africa's highest peak which is almost 19340 feet tall.
This mountain trail is widely famous for hiking among hikers from all around the world and it can easily get its place into your bucket list for enjoying breathtaking scenarios.
The best part of this hiking trail is, you don't need any technical skills for climbing this huge mountain.
Moreover, you can reach the top of this dormant volcano from six different routes. Each route comes with different levels of difficulties, overall length, and even separate climate zones.
While hiking uphill on Mount Kilimanjaro, you will go through volcanic glaciers and formations, mossy jungles, and miles of landscape and panoramic views.
When you finally reach the top of it, you will be mesmerized by the spectacular scenarios above the clouds.
The whole journey is roughly about 35 miles depending on the average route and it can take almost a week to complete this hiking trip.
If you want to hike the largest mountain in Africa, then it's better to hike between June to October.
#3. Tour Du Mont Blanc, France, Italy, and Switzerland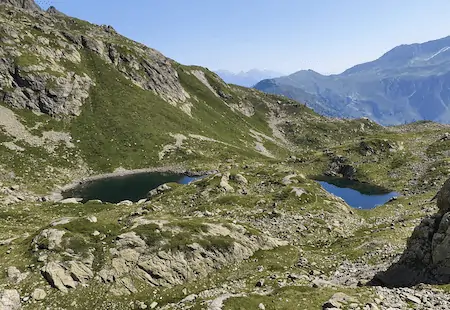 There are only a few trekking or hiking trails in the world that can take you through more than two countries just on foot.
Our next hiking trail Tour Du Mont Blanc is basically the highest peak of Europe which is encircled by three different countries France, Italy, and Switzerland.
This tri-nation trail is ranked as one of the longest hiking trails in the world has almost 110 miles to cover from the beginning to the end.
While you go through this trekking trail, you will enjoy the scenic beauty of alpine meadows, lush forests, glacial valleys, and even mountaintops altogether.
Moreover, you will be also thrilled by extreme changes in the elevations.
However, unlike other long-distance hiking trails, the top peak of Western Europe is easily accessible from different starting points and routes. You can even enjoy different forms of transportation facilities to shorten your trip.
On top of that, you will discover different levels of accommodation facilities from small mountain huts to three or even five-star hotels.
It can take almost 6-14 days to complete the whole journey and the best time of the year to hike on Tour Du Mont Blanc is between July to September.
#4. Torres Del Paine W Trek, Chile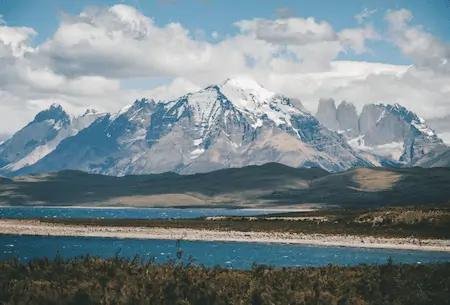 Our next trail recommendation goes back to Latin America where Chile's Torres Del Paine W Circuit is known as one of the most famous hiking trails among hikers around the world.
If you want to hike through transparent lakes, calving glaciers, emerald forests, raging rivers, and granite spires, then this should be on your bucket list.
This hiking spot is located in Chile's Patagonia, where you will come across three major iconic stops such as a 360° panoramic sight of Paine from the French valley, 12 miles long, and 2500 feet high W circuit base towers, and also the grey glacier of retreating hulk.
Moreover, if you want to enjoy the massif of the southern field of ice in solitude, you can continue your journey up to the back door of the cordillera.
For those who love to rest in a luxurious place while hiking, Tierra Patagonia Hotel is there to welcome you in the middle of the steppe.
To enjoy the scenic beauties of this trek, you might need to invest 4-5 days of your vacation week and it would be a good idea to hike from the month of October to March.
#5. Grand Canyon, Arizona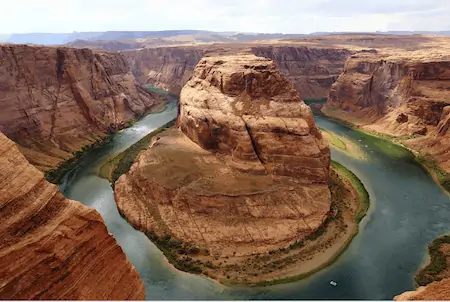 Who doesn't know about the thrilling experiences and wildlife diversities of the great Grand Canyon?
Well, this national park in Arizona can be unarguably there on your bucket list to hike from the rim to the rim of it.
It absorbed 2 billion years of earth's history in its territory while offering you the mesmerizing scenic beauty with it as well.
Starting from the north Kaibab rim trail, you will descend approximately 6000 feet down to the bright angel trail and again ascend 4500 feet up to the south rim.
In between your rim-to-rim journey, you will love to spend your nighttime at the bottom of Grand Canyon which is known as Phantom Ranch.
Grand Canyon is one of the most visited national parks which is almost 24 miles long if hiked from one route. Carved by the Colorado River, it looks copper-colored which gives the hikers an ancient flavor of history and life diversity.
Before you plan to hike this great scenic natural wonder, you need to know that it's better to visit from May to June or September to October of the year.
#6. GR20, Corsica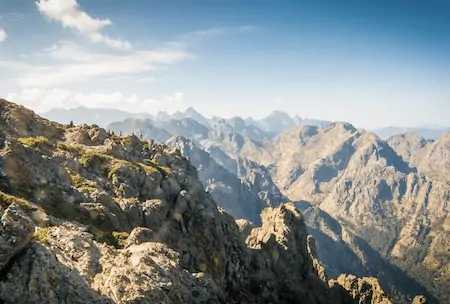 Looking for something more extreme? Well, our next hiking trail is one of the longest and toughest trails in the world named GR20 from Corsica.
This 112 miles long trekking trail can take up to 15 days of your vacation period to complete the whole area. The best time of the year to hike on this terrific trail is between June to mid-October.
While ascending and descending tough steeps and terrains, you will be mesmerized by the breathtaking scenarios and mountain jagged ridge of Corsica's Mediterranean Island.
This magnificent trek is relentlessly rugged but 35000 feet of vertical elevation will blow your mind away with crystalline lakes and towering spires.
Sometimes you will also be welcomed by snow-capped peaks and dramatic coastline where a simple glimpse will win your heart.
There are some hikers who only look for extreme terrains to beat the difficulty with thrilling confidence, this is exactly what this hiking trail of GR20 is all about.
#7. The Annapurna Circuit, Nepal

Missing some Asian hiking trail? Well, last but not the least, our final location suggestion is from Nepal, named as the Annapurna circuit trail.
Who wouldn't like to visit the Himalayas of Nepal once in their lifetime? Every hiker has this fantasy and this hiking trail goes through the heart of the Himalayas of Nepal.
You will definitely love the spectacular view of gushing waterfalls, iconic gorges, and mysterious peaks of this range.
The traditional route takes you through the local villages where you will be amazed by the hospitality of Nepalese culture and the sights and soothing sounds of nature as well.
This whole circuit is almost 100 to 145 miles long depending on different routes and starting points, where it is called as one of the longest hiking trails in the world.
You might need to spend almost 3 weeks to enjoy the whole beauty of the Annapurna range and it really does worth your time, money, and attention for all the things it has to offer you.
Final Words
There is an enormous number of hiking spots in the whole world that every hiker would love to experience at least once in their lifetime.
But, since life is short, wealth and opportunities are limited to most hikers, it's more practical to focus on the best trails that are worth your money, time, and struggle.
So, for your comfort, we tried to come up with the best 7 scenic hiking trails around the world that you can afford with ease.