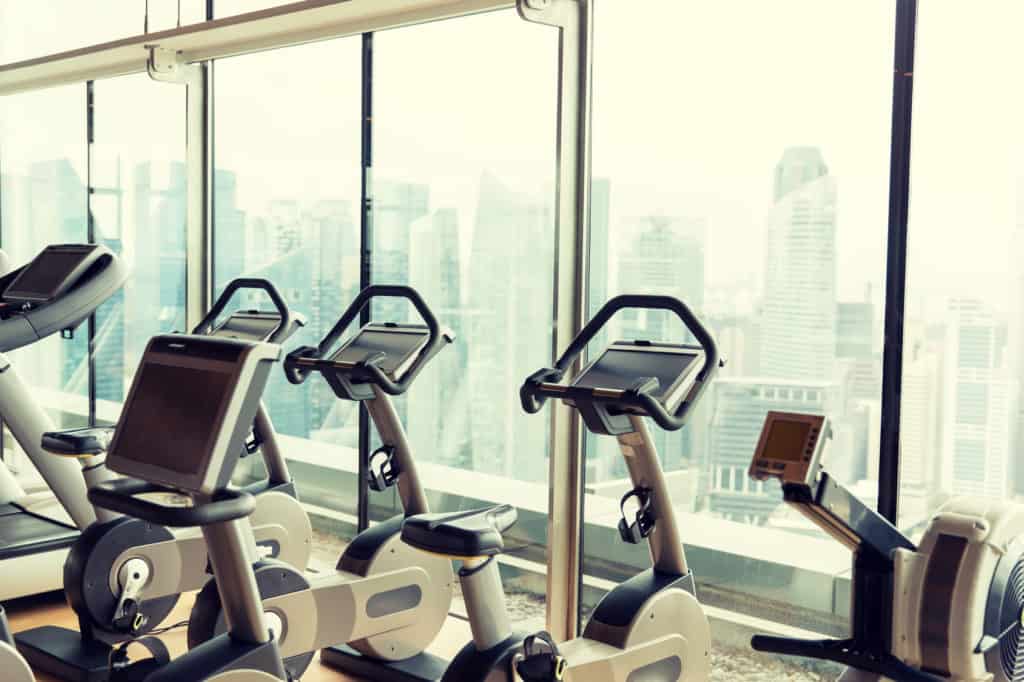 This Exerpeutic 900XL recumbent exercise bike is equipped with eight resistance levels for low impact or high-intensity workouts.
Riding this style of a bike means that the rider has a lower center of gravity for improved stability. By sitting back and allowing the arms to hang naturally at the sides, the cyclist will not experience joint, wrist and arm pain because there is no stress or weight placed on them. Traditional bikes require the rider to sit up higher and lean forward, putting a strain on the joints and a number of muscle groups. Because of the difference in posture when riding a recumbent, compared to riding a traditional style bike, you won't get a good core workout but you can expect a more advanced workout on your glutes because riding in a reclined position will naturally work them without strain.
The 900XL is designed in a manner that sits the rider lower to the ground, placing their legs in front as opposed to the traditional bike that positions the rider's legs below them.  This type of exercise machine offers a cardiovascular workout to increase endurance and stamina. The 900XL also offers a workout that's safe and comfortable because it puts less stress on the cyclist's hips and knees. Because of this, this bike would be a great choice for people with arthritis or individuals who are rehabbing their legs. This Exerpeutic model will extend the angle of the knee joint, not requiring the hips and knees to flex as much as what's required on a traditional bike.
Exerpeutic 900XL Recumbent Bike Review: Specs and Features
The Exerpeutic is an affordable, entry-level recumbent bike that features solid construction and a weight limit of three-hundred pounds. This is the perfect model for people interested in losing weight and increasing endurance. Virtually silent running, you can listen to music or enjoy a movie while working out.
Assembly for this model is very straightforward. Most of the parts arrive pre-assembled. The user's manual contains detailed step by step instructions that make assembly a cinch. Most consumers mentioned an assembly time of about thirty minutes.
Compared to higher-end models, the 900XL isn't equipped with all the bells and whistles but it does offer top quality in performance and can provide you with a low-impact, comfortable workout, thanks to the padded, adjustable seat and ergonomic design of the frame. Because this is a basic recumbent bike that doesn't include a number of different modes and features, it's actually very user-friendly. Additionally, the large LCD display screen is easy to read and navigate, with straightforward controls that allow you to quickly make changes to resistance by twisting a knob that's conveniently located within the rider's reach.
Other features include extended leg stabilizers, a heart rate sensor in the handgrips and a flywheel with a precision balance. The total weight of the machine is sixty-three pounds, with a three-hundred-pound weight capacity.
The large LCD display screen lets the user monitor their distance, heart rate, elapsed time, total calories burned and speed. All of these features will help you to closely keep track of your progress so that you can challenge yourself each ride. The bike's handgrip heart rate sensor is very accurate. Now you can track your heart rate during your entire workout and push yourself if it falls too low. Riders can also use it to track their heart rate for health purposes or as a signal to increase the resistance to burn more calories.
Featuring eight levels of resistance, this is a bike that will challenge even the advanced cyclist. This large range of resistance levels makes the 900XL perfect for newbies and pro riders. The lowest resistance is the perfect setting for interval training breaks or riders who need a low impact workout to rehab muscles. The foot straps on the pedals allow you to easily pedal at faster speeds without the fear of the foot slipping off the pedal, thus preventing foot and ankle injuries. The bike's leg stabilizers prevent the bike from falling over during an intense workout. Because the bike weighs in at just sixty-three pounds, moving it from room to room or transporting it is relatively easy. The magnetic resistance works to make the bike run quiet and smooth, so it's a great model for riders that enjoy multitasking during a workout.
Consumer Feedback for the 900XL by Exerpeutic
Setup is simple. Adjusting the resistance level can be accomplished quickly by turning the knob. This amount of resistance levels allows individuals of all fitness levels to pace themselves and work up to more challenging rides.
Pros: Pricing is reasonable for a bike that includes some great features including the LCD screen, heart rate monitor handgrips, and a large comfortable seat. Because it's a lightweight bike, transporting it or storing it after a workout it very convenient.
Cons: Some consumers found that the bike's seat could be difficult to adjust.  Also, if you plan to share the bike with other members of the family you'll need to get the hang of adjusting the seat and pedals, otherwise your workout will not be as effective. Some consumers mentioned that adjusting the seat, pedals, and resistance levels before each workout can be somewhat frustrating.  The versatility of this model and the fact that it can be adjusted, based on rider size and fitness level is a big selling point for this model. The time it takes to adjust the seat and resistance level can be accomplished in seconds, so while it may initially be a hassle, it allows you to save money by purchasing only one model that can be used by the entire family.
900XL Recumbent Bike Conclusion and Rating
IBC7.ORG Product Rating: (4/5)
Consumers gave this model a rating of four out of five stars for ease of use, features, comfort and pricing. This is a bike that is perfect for users of all sizes and fitness levels, making it a good investment for households that have more than one user interested in getting fit. Because these workouts can be challenging while still allowing the user to read, watch a movie or listen to music, you won't get bored, which is one of the biggest issues for stationary bikes in general. Perfect for homes that are short on space or on a tight budget.
Summary
Reviewer
Review Date
Reviewed Item
Author Rating