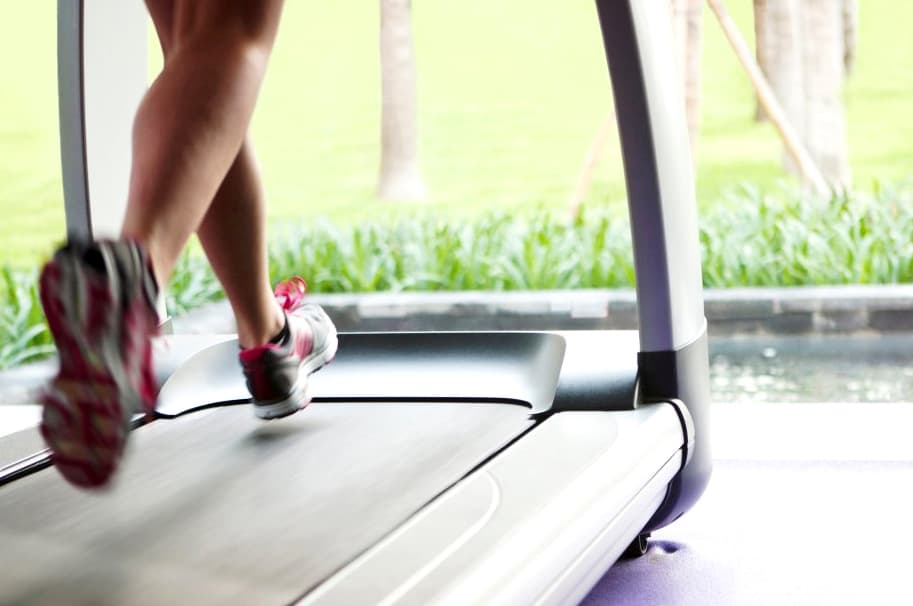 Working out is a tedious exercise and it is always the desire of everyone for their efforts to pay off when it comes to weight loss. However, it is difficult to know the best weight loss machine or equipment considering the fact that most fitness centers have an array of fitness equipment. When it comes to building cardiovascular fitness and losing weight, the recumbent bike and treadmill are some of the best pieces of equipment. The exercise goals of an individual as well as their personal needs help to determine which of the two is better when it comes to burning calories.
Treadmills
In instances when conditions do not allow for an outdoor workout, a treadmill is a fitness machine that allows you to run or walk indoors. Depending on the model, there are some commercial treadmills with speeds of up to 15 mph. In addition, it is possible to simulate hill climbing using an adjustable ramp on some models. It is possible to reach a 30 percent grade when you are an incline trainer but most standard treadmills reach a 15 percent grade. Also, treadmills guarantee natural movement that can help one attain their desired fitness levels.
When using a treadmill for weight loss and general fitness, one gets an opportunity to engage in a wide range of fitness activities such as;
Taking a light jog
Running sprints
Training for race
Performing intervals
Hiking hills
Walking casually
Brisk walking
Recumbent Bikes
The design of a recumbent bike may appear like that of an ordinary stationary bike but the pedals and bucket seat are not located below the hips. In this case, both the pedals and the bucket seat are located in front of the body. In addition, the regular stationary bike puts a lot of stress on your shoulders and wrists but this does not happen with the recumbent bikes as they have a natural extension of the handlebars in front of the shoulders. The bike helps one to achieve a cardiovascular workout especially if you have balance problems or when recovering from an injury. For individuals that find it hard to incur an impact, a recumbent bike is always the best option. Moreover, the bike has a button for adjusting workout in terms of the pedal-push difficulty or resistance.
Considerations for Different Conditions  
As mentioned earlier, both pieces of equipment are suitable for weight loss but there are some things to consider before you can use any of the machines. To begin with, individuals with back pain and joint problems should not use treadmills for weight loss as it might aggravate the condition.
On the other hand, the recumbent bike is not suitable for individuals that need to reduce more than 50 pounds. Your joints should not be exposed to constant impact when you want to lose a lot of weight using the recumbent bike. For individuals that need high intensity in training, the recumbent bike may not be of great help. You can consider using the treadmill if you are extremely fit in order to meet your high intensity needs.
Calorie Burn Potential
When the two pieces of equipment are compared, a treadmill has the potential to help you burn more calories than a recumbent bike. This comparison is based on a similar effort when using a treadmill or a recumbent bike. For instance, a 30-minute moderate jog on a treadmill at a speed of 5 mph can help you burn up to 298 calories. It is possible to even burn more fat on a treadmill when you decide to add an incline or go faster.
On the other hand, working out on a stationary recumbent bike for 30 minutes helps you burn a maximum of 260 calories. The treadmill speed determines the amount of calories that one will burn. For instance, you can only burn 167 calories in an hour when you walk at a speed of 4mph on a treadmill. You have to be ready to work hard on the treadmill if your main motivation for fitness is to burn calories and lose weight. In this case, a recumbent bike can just be fine if burning calories is not your priority.
Bottom-line
Treadmills burn more calories when compared to recumbent bikes. There is no better choice for losing weight within a short period of time than running on the treadmill. Weight loss and physical fitness cannot be separated and the only way to achieve this is through the treadmill way. The Recumbent bike may help you attain some physical fitness but may not be of great help when it comes to losing weight. Also, the monotonous nature of a recumbent bike makes it hard to work out for long hours as compared to a treadmill that has many options. The only good thing about the recumbent bike is that one can watch TV or read a book while working out.