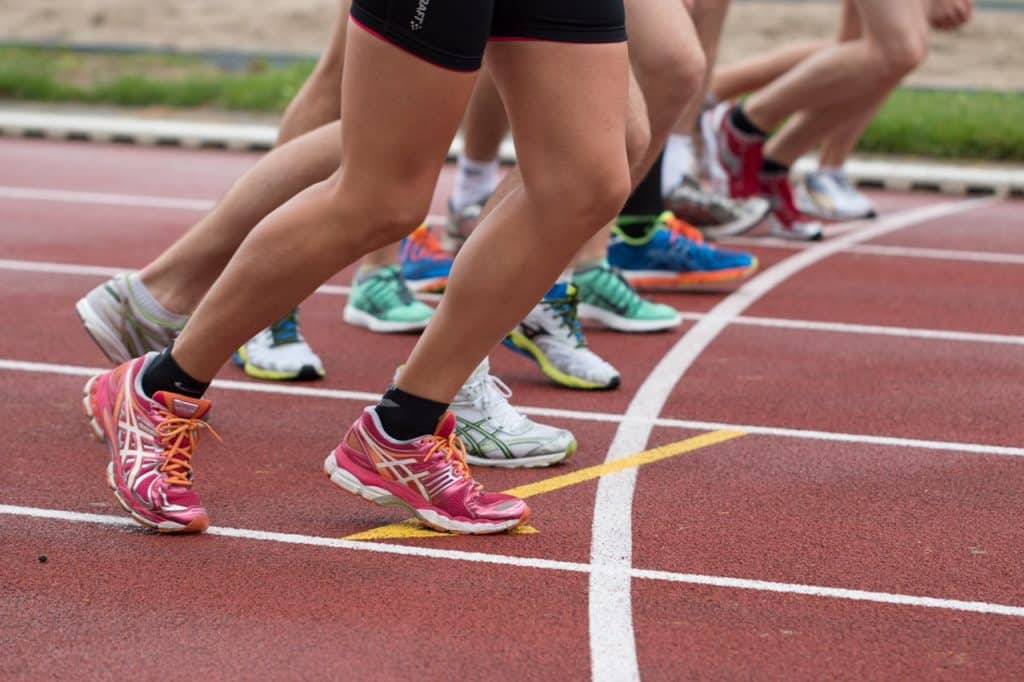 For many runners, entering a race is an exciting challenge. A 10k is a six-mile race that's recommended for intermediate and pro runners. If you don't have much experience running then you may want to test your limits and challenge yourself by training for a 10k for two to three months prior. Running is a great way to get in shape, lose weight and reduce stress. The amount of time you should dedicate to training for a 10K will depend on your health, overall fitness, and weight loss goals. If you run daily you may simply need to alter your eating habits in order to ensure optimal performance.
Beginner's Training for a 10K
For a beginner, running in a race can put you at a higher risk for injury if you're not prepared. Fitness experts recommend creating a training schedule that allows you to slowly build up your endurance in order to be race ready.  One of the most common causes of injury for new runners is running too much too soon.
Start off by running one mile a few times a week. If you plan on training for a 10k for at least two months, you'll have plenty of time to gradually increase your stamina and be able to easily run more than six miles a day.
During training for a 10K it's important to include a weekly long run in your running schedule. A long run should be done once a week and you should extend the length of the long run by a mile each week. Once a month, scale back the length by two to three miles in order to prevent pushing your body too hard. Putting an undue strain on the body can make you vulnerable to injury.
A 10k can take place on low-key quiet rural roads, suburban streets or busy city streets that are lined with supporters. During a race, a crowd can be distracting and even a little disorienting. To get used to running in front of an audience, when training for a 10K run on busier streets. Mix up the type of terrain you run on to include steep hills, gravel, sandy beaches, asphalt, and sidewalks.
Improving Your Racing Speed
Is winning the race important to you? If you desire to win then you'll need to work on your speed. You can do so by timing yourself each day. As your body becomes stronger you'll notice that you can complete each training session much faster compared to when you first began. Working on your speed is an optional part of training for a 10k. It can help to increase your stamina and make your runs much easier. Tempo and interval runs are considered the most popular types of speed runs.
Interval runs involve a set of repetitions of a specific distance that is run at a significantly faster pace than usual, with a recovery jog every few miles. As an example, you can run two miles at a fast pace with a five-minute slow jog or walk, before running another two miles.
A tempo run is longer than an interval run, ranging from five to ten miles, depending on your level of fitness. During this type of run a runner should go at an easily sustainable pace. Tempo runs will teach the body how to adjust to challenging physical activity gradually.
Before each training session always warm your body up by stretching and running in place for ten to fifteen minutes. After you finish training for the day, you should end the session by slowly cooling down your body. This should involve jogging for one mile or stretching for ten to fifteen minutes before calling it a day.
The Importance of Rest Day and Staying Hydrated
Many serious runners tend to turn their noses up at the idea of a rest day, but what they don't know is that by refusing to take a day off they may be damaging their body and negatively impacting their performance by putting too much strain on the body. A rest day means no running. A runner should take it easy and allow the muscles to relax. This helps to prevent physical and mental burnout.
Rest is also the best preventative measure a runner can take against injury. If you can't stand to take the day off from exercising, you can try a low impact workout such as yoga, swimming, hiking or lifting weights.
Staying hydrated can be detrimental to your success during a race. Most races will feature aid stations throughout the entirety of the race. During training, you'll be doing plenty of long runs without the benefit of these water stations. Remaining hydrating during a run is very important. You can wear a hydration pack or carry a bottle of water.
Consider stashing one of two bottles of water on your route, somewhere safely out of the way. You can also plot your route to pass a water fountain. If you become dehydrated while you run, then you may vomit, blackout, faint or become disoriented. You'll also lack the strength and endurance you need to finish the race. Should you begin to feel lightheaded while you run, drink water immediately.